Pappu Can't Dance Saala is yet another Bollywood flick featuring odd couples – the subject which has always connected with audiences. There were many subjects which the hindi film industry has served us – incompatible individuals who somehow hall in love even with their conflicting personalities which are exploited for humour.
Ideally, Pappu is a pseudonym addresses to those males who, generally speaking are considered nincompoops.
Vidhyadhar Acharya (Vinay Pathak), a medical representative in Mumbai, has come to the city from Benares. He is a simpleton who hasn't left his small town values behind in Mumbai, the city which never sleeps.
The film Pappu Can't Dance Saala has a fine story which depicts the intricate style of living of those thousands of small town dreamers who arrive in this mega city. It wouldn't be fair to address them as 'pappus'
Vidhyadhar lives in a flat which is supposedly meant for government employees and that too since that's all he can afford.
Mehak (Neha Dhupia), a tall and beautiful girl is his next door neighbor. Like hundreds of aspiring artists flocking to this dream city, she has come from Kolhapur and is a dancer.
Mehak is an aggressive personality and is a master manipulator when it comes to real life situations. But our 'pappu' isn't that naïve and he is wise enough not to succumb to her charms. No wonder they share hostile relations. But as the story proceeds, this hostility is replaced by trust and then a sense of longing for each other.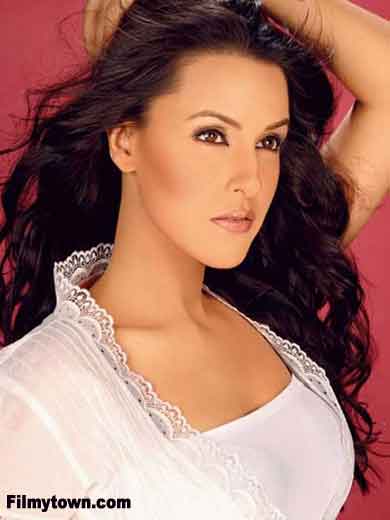 It so happens that Mehak has to share the apartment with him. Vidyadhar is horrified at his new room partner's attitude, her dress sense and her choice of friends. Slowly this dismay melts and a tender bond of friendship develops.
The first half of Pappu Can't Dance Saala has some edgy dialogue baazi which is followed by a witty wordplay. But the second half is where the patience of the viewer is tested.
Neha Dhupia's sex appeal is retained along with her improved acting performance. Vinay Pathak needs no mention as such he is a master in getting into the character of the guy from Benaras. Sanjay Mishra as the owner of a food stall is fine but Naseeruddin Shah is in the drama for a brief part. Rajat Kapoor, is convincing in yet another performance as the long-haired middle-aged choreographer.
At least one thing is sure that this film is an honest effort as compared to the recent flood of senseless comedies and dramas.
Cast of Pappu Can't Dance Saala:
Vinay Pathak – Vidyadhar Acharya
Neha Dhupia – Mehak Malavde
Rajat Kapoor
Naseeruddin Shah
Sanjay Mishra
Anand Abhyankar – Mehak's Father
Eddie Seth – Darsheel
Kanchan Pagare – Tavade
Rati Shankar Tripathi – Dwivedi
Datta Sonawane – Police Constable
Brijendra Kala
Veena Malik
Saurabh Shukla
Credits & Crew of Pappu Can't Dance Saala:
Banner – R Vision India Pvt. Ltd
Producer – Ravindra Singh, Sameer Nair
Story Writer – Saurabh Shukla
Choreographer – Longines Fernandes
Music Director – Malhar Patekar
Director – Saurabh Shukla
Lyrics – Amitabh Bhattacharya, Saurabh Shukla
Editor – Sankalp Meshram
Cinematography – Fuwad Khan
Dialogues – Saurabh Shukla
Sound – Resul Pookutty
Pappu Cant Dance Saala- movie review