Dil Dosti Etc. is set around students in Delhi University, boys' hostel, ragging, politics, love and …
Apurv (Imaad Shah) is a rich, cosmopolitan junior college student who makes friends with a senior, old fashioned Bihari student and college politician, Sanjay Mishra (Shreyas Talpade). While Apurv, a directionless innocent-looking lad, just wants to have fun in life through his amorous escapades with women, Sanjay, the senior student has a clear cut goal to do anything and everything to win that student president election.
Apurv's has flings with a prostitute called Vaishali (Smriti Mishra). Being playful he also develops a liking for a school girl (Ishita Sharma). By day, he is chasing the school girl, and after sunset he visits Vaishali.
Sanjay is the typical bashing up opponents types and sabotages his weaker candidates (competition). He comes across a rich model Prerna (Nikita Anand), falls in love with her, but the model is ambitious, and tries to snuff the romance.
Its a simple storyline as told here and much about the college life. Debutant director Manish Tiwary has attempted well enough, Imaad Shah is normal in his role eyeing everyone in skirts. Shreyas Talpade is one step better who brings life in this campus story.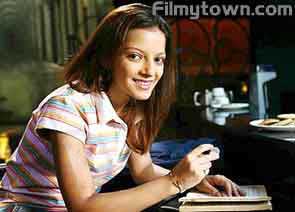 Smriti Mishra has enacted the role of a professional very convincingly and has some kissing scenes too. The naughty looking Ishita Sharma looks fresh and cute. Nikita Anand too has a good future in the bollywood film industry.
The film becomes interesting only towards the end but has nothing great in it except the freshness of the female leads in the movie. The director tries to explain the consequences of bad deeds and actions to a teenager, a college student. This movie is targeted at the youth.
Dil Dosti Etc CREDITS
Writers – Pawan Sony, Manish Tiwary
Cast
Nikita Anand – Prerna
Smriti Mishra – Vaishali
Immaduddin Shah – Apurv
Ishitta Sharma – Kintu
Shreyas Talpade – Sanjay Mishra
Dil Dosti Etc
Produced by
Line Producer – K.L. Chhabra
Production Manager – Sudhirbhai Mishra
Executive Producer – Alankrita Shrivastava
Original Music – Agnee, Siddhartth, Suhas
Cinematographer – Arvind K.
Film Editors – Santosh Mondol, Hina Saiyada
Dil Dosti Etc Movie review