Slick tale of crime, betrayal, love and cold blooded murder is what Johnny Gaddaar about.
Seshadri (Dharmendra) who is the senior most of the five gang members gets an offer to make a fortune in four days. The gang members are up for it since this is the deal that will catapult them into the big league.
But the youngest member Vikram (Neil Nitin Mukesh) has other plans to disappear to some unknown city and start his own life with his college love Mini (Rimi Sen) when a devilish thought crosses his mind and decides to grab the entire jackpot. Vikram's opening gambit is a neat double cross. But as he plunges further into his diabolical plan…he realizes that the stakes in this game are high. And the only losers he can afford to leave behind are dead ones!
Seshadri is an ex-gangster/smuggler and now a gentleman who has lost his wife. He is the leader, being senior most of his gang. Vikram joined the group to use Seshadri's intelligence and further his prospects. Being a a smart and charming young man, his taste for fast money and fast life was first realized with the huge profits he generated by speculating on stocks with other people's money. For him money is everything is ready to get it at any cost and by any means.
Prakash (Vinay Pathak) is a compulsive gambler and is in charge of running a gambling club which attracts moneyed clients and on certain days, the stakes run into several lakhs of rupees.
Shardul (Zakir Hussain) runs a chic lounge bar which caters to the rich kids from the IT and PBOs in the vicinity. Vikram to guides him in this venture since he knows the pulse of the younger generation.
Daya (Daya Shetty of TV serial CID fame), a bachelor in his mid thirties, is a brutal and virile chap, living with his ailing mother. He is from a family of wrestlers in Kolhapur and does the strong arm work for the group.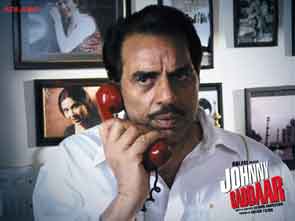 Dharmendra is subdued and the real mastermind. All of them are perfect in their roles, while debutant Neil Mukesh is cool. He is charming and looks natural in his scenes.
This cleverly constructed movie Johnny Gaddaar, is entertaining and never boring and it keeps the viewer on the edge of our seats.
Johnny Gaddaar assumes that we're a thinking, breathing audience and not just popcorn-munching machines, as it holds the audience's hand and leads them through intricate planning, and a lot of twists and turns. The movie's an eye-popping heist which takes place on a train.
Writer-director Sriram Raghavan shows that respects his present day thinking and mature audience. It almost appears that the director holds his viewer's hands and leads them on certain details through this intricate planning and lot of twists and turns.
CREDITS
Produced By – Adlabs Films
Written & Directed by Sriram Raghavan
Cast
Dharmendra – Seshadri
Zakir Hussain – Shardul
Neil Nitin Mukesh – Vikram
Vinay Pathak – Prakash
Rimi Sen – Mini
Daya Shetty – Shiva
Govind Namdeo , Rasika Joshi
Sanjay Routray – Executive Producer
Original Music by – Shankar Mahadevan
Cinematography by – C.K. Muraleedharan
Film Editing by – Pooja Ladha Surti
Johnny Gaddaar, movie review