Friendship goes in for a toss in this comedy film "Shaadi Teri Bajayenge Hum Band"
The story mainly builds on confusion and how that creates a huge humorous ruckus that will leave its audience in splits.
"Taking support of a lie brings an avalanche of unforseen troubles – is the key message of the upcoming comedy film SHAADI TERI BAJAYANGE HUM BAND – produced by Rangrezaa Films," revealed Rohit Kumar addressing the filmytown scribes at a press conference held in Mumbai.
Rahul Bagga plays Sher Singh while Rohit Kumar is Gogo with Dilbagh Singh playing the character of Bunty, with the trio being fast friends.
Having big dreams to make it big in life, these lads Sher Singh, Gogo and Bunty do not reside with their family while residing in Delhi itself. Through thick and thin, these friends enjoy their life as well as struggles in several precarious situations in life that come their way.
Sher Singh has fallen for a beautiful girl Priti (Shrushti Maheshwari) and they want to seriously settle down in life. Whereas Sher Singh's father Samsher Singh (Mushtaq Khan) is strongly against the concept of love marriage. Sher Singh gets married to Priti, without informing their parents, with full support from his friends who are there with him in his decision.
Everything goes on smoothly until one day when Sher Singh's father Samsher Singh visits his house unannounced. To escape from the wrath of his father who would have fumed on learning about Sher Singh's and Priti's love marriage, Sher Singh comes up with the statement that the newly wedded lady Priti is Gogo's wife.
Situation averted, but Gogo is in love with his girl friend Gunjan (Aafreen Alvi) and they plan to get married. But on hearing that Priti is Gogo's wife, Komal Bhatti ditches Gogo and the poor chap is left stranded. In the meanwhile, Sher Singh's father has decided to get his son married to his friends daughter who is a homely girl – Komal Bhati (Radha Bhatt), while Komal is going steady with Bunty.




How many lies would these lads resort to? One lie leads to several lies and comes a situation virtually impossible to handle.
Gunjan who dithed Gogo gets her brother – Selfie Don (Rajpal Yadav) into the issue and the Don tries his hand in resolving the mess in his own peculiar strategy which creates chaos, fun, laughter which almost leads to 'sabki band baja di'.
Produced by Sanjeev Kumar-Rohit Kumar and directed by Gurpreet Sondh, the film features Rajpal Yadav, Rahul Bagga, Dilbagh Singh, Rohit Kumar, Radha Bhatt, Naresh Gosai and Mushtaq Khan in pivotal characters. Its story is scripted by Rohit Kumar while Gurpreet Saundh and Ranvir Pratap Singh have penned the dialogues, cinematography by Zaheer Naqvi choreography Ricky Gupta, Action Vishal Bhargava, Lyrics by Jang Singh Sandhu, Kayes and Raza Nadir.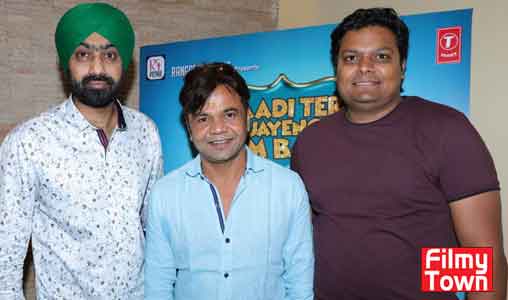 It is the music of this film composed by Aditya Pushkarna, with melodies sung by Daler Mehndi, Sonu Nigam, Dilbag Singh, Aakash Singh and Mouni Singh that sets it apart.
Speaking to the scribes of the filmytown about the subject of Shaadi Teri Bajayenge Hum Band, Gurpreet Sondh stated, "We have depicted those peculiar situation which occur in our day-to-day life, and realize the fact that it is very important that depicting comedy on large canvas requires skilful execution of dialogues with perfect timing that is not easy at all. I am so glad that our cast pulled it off quite well. The highlight of the film is the title song rendered by Daler Mehndi."
Says Rohit Kumar, the actor-producer, "This shaadi will stay on longer in the viewers mind, as I have put in my heart and soul in the making of this complete family high voltage comedy-entertaining film – SHAADI TERI BAJAYENGE HUM BAND which releases on 23rd March 2018."