"I personally believe that there is certainly a parallel world where all our loved ones who have left us are living a new life. I strongly feel, this bonding with our loved ones is not temporary. It's not just for this lifetime. We keep meeting them again & again in new lives, in new forms," believes Udayyan Raathore, the director of RIP Till We Meet Again on being asked does another world exist?
The trailer of the supernatural psychological thriller film – RIP Till We Meet Again delves into a mystical space between life and death and the continuity of relationship thereafter. A unique subject, not attempted by many filmmakers around the globe. Do the departed ones always seek to come in contact with their loved ones? There is a scene in the trailer where a psychic healer tells the protagonist that the departed souls do find a way to show their presence to us in a tangible or intangible form. We can certainly feel their presence through instances.
Credited with its unique style of shooting, RIP Till We Meet Again was shot it in a very Candid and Spontaneous methodology. There was no Script and not much retakes, while Udayyan adds, "You may say that everything just fell into place. It was just me and the DOP Kartik Katkar and the people whom we interviewed. Apart from me & Kartik there was no third person, not even any attendant or assistants. We did Sync sound and the audio was directly recorded on camera. We didn't even use lights, we played with natural lights or whatever source of light was available."
Udayyan Raathore speaks to FILMYTOWN Editor Paresh Mehta:
The film RIP Till We Meet Again has a raw, realistic approach with unexplored locations. Is there any particular reason behind that?
I went to most of the places which my Mother loved & I had been to with her. We shot at Nainital, Ranikhet, Almora, Gulmarg, Srinagar, Delhi etc. I love hills and So did my Mother. I love Uttarakhand and the locations in this hilly state are amazing.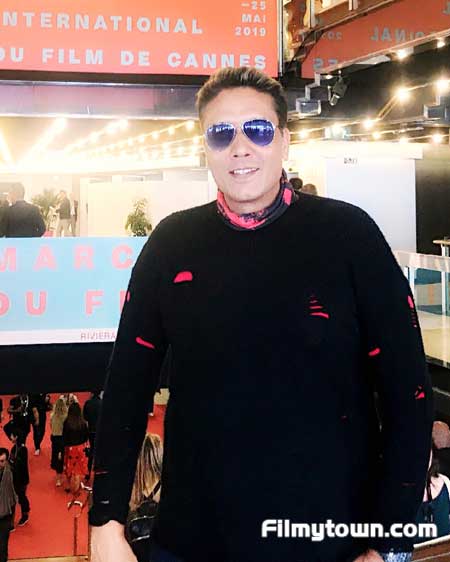 As a boy it is understood that one feels secure with his mother, but what makes a grown-up man to arrive at such a situation that one misses his parents despite having his wife and children and other relatives, fun and luxuries of life?
I believe the purest form of love is the Love of a Mother for her child. No matter how old you are or how well you are doing in life, you always need your parents (especially mother). You feel secured when they are around.
The protagonist in your film is keen to connect with his departed mother and at one place mentions 'just one last time'.
The desire to connect with your beloved departed ones just 'One last time' is the strongest we all carry inside us. Given a chance to say "I am okay, How are you Mumma? I love you, take care of yourself until we meet again", It is that one last goodbye that is worth.
All along, whom would you credit for standing by you through the ups and downs during the production and filming of this documentary?
I made this film as a Tribute to my Mother Mrs.Usha Singh. As always, my Father Col.Vijendra Singh and my wife Divya encouraged and supported me a lot to sail through this project. This was an emotionally tough project for me, and I am blessed to have such a motivating father and wife, without whom this journey would have been incomplete.
If you could throw some light on the extent of Research on this sensitive project?
I was helped by a spiritually inclined ad-film and documentary film maker and a close friend, Bhaskar Chakraborty. He has lived with various underground cults and sects, indigenous and totemistic people to explore "the unspoken". He actively contributed with his experiences and helped me with the research & development of this project. Also I met Shruti Dwivedi & Praddeep Chandiramani, both of them are Past Life Regression Therapists & Psychic Healers and they have been featured as themselves in the film. Their inputs & expertise on this subject have helped a lot in shaping up this project.
What is being depicted in the film RIP Till We Meet Again? Is it the pain of loss of one's dear one or the void feeling created by his mother's departure?
I tried to depict that even if we have lost our loved ones in this life, still, they exist somewhere in a parallel universe because the soul never dies and still finds a way to connect with us.
That summarizes pretty much everything. If you have lost someone, don't lose hope. You will definitely meet them again – somewhere, sometime.
RIP Till We Meet Again Trailer Link: