It is amazing that this very Bollywood film industry has produced the likes of Shatrughan Sinha, Mithun Chakraborty, Shah Rukh Khan and Ajay Devgan who were just written off initially since they did not have chocolate looks, style nor any filmy godfather to give them a break. This is what My name is Anthony Gonsalves is all about.
Well, then this film is the story of an ordinary boy – Anthony Gonsalves (Nikhil Dwivedi) who has an extra ordinary dream – to become a film star. As an orphan child Anthony was picked up from the streets of Mumbai by the large hearted gangster Sikander (Pavan Malhotra) who hands this young lad over to father Braganza (Mithun Chakraborty), who becomes his moral guardian. This innocent young child is now sheltered from harsh realities of life.
Grown up as a handsome young man, Anthony works as a bartender at Jimmy's pub run by the local gangsters – Seth Murtuza (Anupam Kher), Sikander, Maqsood and Riyaaz, which is used as a front for their illegal activities. Anthony, oblivious to the underworld activities happening around him, naively pursues his dreams to become a superstar. It so happens that Anthony now falls in love with Riya (Amrita Rao), who is working with a foreign returned film maker.
On hearing of a movie audition taking place in Riya's production office, he wants to try his luck Though residing in the same locality as Anthony, Riya is a professionally creative girl and expects professionalism from the wannabes who hop into her office for auditions. There are some genuine moments when Anthony happens to drop in her office for auditions. Anthony works out his charms around this girl and skips the queue and lands up giving audition which has some Hollywood type of film makers.
Fate has it that Anthony becomes a witness to a murder, and his world is turned upside down. Differences arise between Sikhanderbhai and himself since it was this godfather who had picked him up from the streets. An honest investigating Inspector Khan (Jawed Sheikh) gets to know about Anthony being a witness to the crime. This inspector, investigating the murder of a dead colleague, starts pursuing Anthony and the gang with dogged determination. Anthony has to choose between his mentor Sikander on one hand and his dream to become an actor, on the other, he has to make a moral choice which may shatter his dreams and even cost him his life.
My name is Anthony Gonsalves – movie review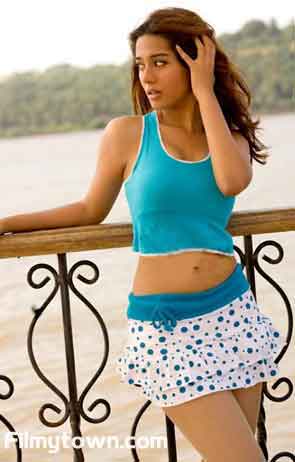 Nikhil Dwivedi is really an ordinary man and we hope his extraordinary dreams are fulfilled in Hindi film Industry. There is an item number performed by the hot Hrishita Bhatt, and a lovely song featuring Amrita Rao in her new stunning image. The movie packs in action, dance, drama, comedy and tragedy. It has a newcomer Nikhil Dwivedi and otherwise some catchy songs and visual presentation. Excellent performance by Pawan Malhotra, and it is him in the second half that the movie is worth watching.
We have the vivacious Amrita Rao and fresh Nikhil Dwivedi, it is Pawan Malhotra who is the most impressive in his character in this film.
CREDITS of My name is Anthony Gonsalves:
Directed by – E. Nivas
Writing credits: Mayur Puri, Lajan JosephOriginal Music – Pritam Chakraborty, Himesh Reshammiya
Cinematography – Prakash Kutti
Film Editing – Rameshwar S. Bhagat
Sound ADR Recordist – Jayesh Dhakan
Sound Designer – Parikshit Lalwani
Choreographer – Rajeev Soorti
Cast of My name is Anthony Gonsalves:
Anthony Gonsalves – Nikhil Dwivedi
Riya – Amrita Rao
Sikhanderbhai – Pavan Malhotra
Father Braganza – Mithun Chakraborty
Anil Kapoor … Cameo
Priyanka Chopra … Cameo
Seth Murtuza – Anupam Kher
Michael – D. Santosh
Dada – Saurabh Shukla.
Maqsood – Mukesh Tiwari
Riyaaz – Dayashanker Pandey
Inspector Khan – Jawed Sheikh
Lillete Dubey
Vivek Vaswani
My name is Anthony Gonsalves, movie review