Meet the model-turned-filmmaker Sammir I Patel, a commerce graduate who began his career in the filmy town as a model for HDFC ICICI, Panama and Vicks in the initial years then he turned to theatre. Sammir's first theatre experience was in Jo Khaye So Pachtaye which led him to important roles in Baat Baat Bigde Haalat. This was his involvement in the early years of this millennium.
This shouldn't sound like he is a veteran in the filmy industry as Sammir I Patel  emoted sparks of a thrilled newcomer all during his informal chat with Paresh B. Mehta, Editor of Filmy Town.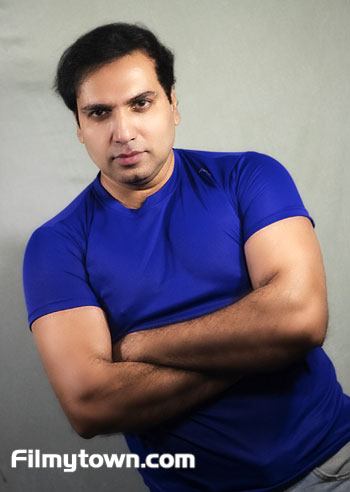 "I then started writing for plays, TV Shows like Mr & Mrs Verma Ki Rasoi that is when I came in touch with Manoj Santoshi with whom I developed a bonding and we collaborated for several shows later on like Yeh Chanda Kanoon till the final stage of scripting of Bhabhiji Ghar Pe Hai where Manoj continued with it. It was here onwards that I realized that itch in myself to venture into feature films. At this stage sometime in 2014 my project of Hotel Beauti FOOL was green signalled. In this film I was the Writer and Director," Sammir recounts.
In 2017 Sammir established a Digital Channel – SIP Digital alongwith which he was involved in the social awareness campaign for Breast Cancer – All the Breast. BTW the digital channel is the acronym of Sameer Iqbal Patel which he further justifies as, "SIP is the Sip of Entertainment and this channel has already over 40K subscribers."
His short film PFA Love Mom & Dad is an emotional story with a message. This short explores the relationship and interaction between a father and son. "PFA Love Mom & Dad has been selected at several International Film Festivals and buoyed by the response to this short drama, I am coming up with another short film YOURS TRULY ROOHANI that is a romantic comedy."
Among his upcoming projects, Sammir I Patel would be directing a Web series that is an Indo-Canadian Project which will have actors from Canada and India.
The next is a Feature Film in the Thriller-Comedy genre about 4 girls on a Journey from Bombay to Goa. "It will be most craziest film in the recent times and right now it is in Casting stage. I hope to finish this film by this June. And once this is over I want to come up with 2 short films – Blind Date (Emotional Drama) and Strangers Again that is about couples when they get bored of each other and decide to become strangers once again."
Having his hands full with works in feature films and Web series, on being asked what is more satisfying, to which Sammir replied, "I have the please of having a bigger Canvas in a feature film and ofcourse with a bigger budget. What has kept me glued on to feature films is that I get that satisfaction of the feel of the Canvas. While OTT platforms are here to stay, feature films have an upper edge over that of Web Series particularly in the parameter of reaching the larger audience as features have a pan-India theatrical release and then it is picked up by the OTT platforms."
"Among the most satisfying works of mine is the Hotel BeautiFOOL as it has done commercially well in Canada. I am awaiting its all India release. While critically, the subject closest to me is PFA Mom & Dad," mentioned Sammir I Patel on a final note stating – The Best is yet to come!
KARMA BOOMERANG – How far would 'The Doting Father' bend his ethics for his daughter's happiness?