Speed – the latest hindi movie shot in the picturesque locations of London, starts with a young man (Zayed Khan) who receives an emergency phone call on his cell phone from an unknown woman (Urmila Matondkar).
She mentions that she has been kidnapped; and the kidnappers have targeted her child next. She is kept in a farmhouse/ stable from where she puts together the remains of a smashed telephone and makes 'the phone call.' Seems the movie was inspired by Hollywood film, Cellular.
However, the main plot of Speed involves an assassination of prime minister (aptly played by Suhasini Mulay) which is masterminded by Raj Zutshi and gets it executed through Aftab Shivdasani.
The movie is a story of Zayed Khan who comes to London to convince his girlfriend Tanushree Dutta to give him another chance to prove his love for her. Meanwhile, Sanjay Suri, an undercover agent, receives a CD from Aftab Shivdasani and Sophie Chaudhary, which contains the recording of his kidnapped wife Urmila Matondkar, and is asked to follow the instructions.
Sanjay is completely confused about what's happening. Suddenly he realizes that he is being used in the attempt to assassinate the Prime Minister of India who is on the London tour. When he doesn't yield to the plans, Aftab finally decides to kidnap his kid. On the other hand Sanjay's kidnapped wife, Urmila, starts trying to escape. Since her only hope is through the telephone call she's accidentally made to Zayed Khan. Zayed is in touch with her throughout, meanwhile his lady love Tanushree gets annoyed and threatens to break up again.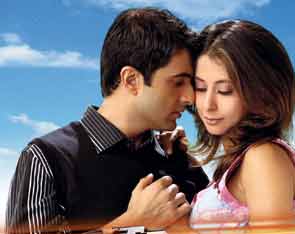 Being a happy-go-lucky character Zayed, risks his own life to save an unknown family. Aashish Chowdhary, is the super-cop of London, who is in charge of security arrangements of the visiting Indian Prime Minister manages to get some time for a steamy song with his girlfriend who has her birthday the very same day.
Vikram Bhatt the director succeeds, to some extent, to make this film crisp. The music of Speed is okay. Pravin Bhatt's cinematography is surprisingly outstanding, providing gloss to the locales of London. There are two glamour dolls – Sophie Chaudhary and Amrita Arora who do their part well.
Speed has several compelling moments and has good amounts of twists and turns. An interesting thriller, despite the similarities to Cellular.
Cast of Speed:
Amrita Arora
Aashish Chaudhary
Sophiya Chaudhary
Tanushree Dutta
Zayed Khan
Urmila Matondkar
Aftab Shivdasani
Sanjay Suri
Credits of Speed:
Producer – Harry Baweja
Director – Vikram Bhatt
Lyrics – Mayur Puri
Original Music by Pritam Chakraborty
Cinematography by Pravin Bhatt
Art Direction – Ajay Verekar
Action Director – Abbas Ali Moghul
Sound Department – Uday Inamati
Visual Effects by
Title Designer – Avik Banerjee
Compositor – Devrishi Chatterjee
Visual Effects – Balakrishnan P.S. Nadar
Digital Compositor – Ashwin Singh
Compositor – Bala Krishna Subbiah
Assistant editor – Aditya Dubey
Speed Movie review