The movie begins with the hero K (John Abraham) having nightmares. He is a heavy smoker and an unapologetic one at that because he's a stubborn and obnoxious guy, who does exactly what he wants His disgruntled wife Anjali (Ayesha Takia) is fed up with his habit and is all set to leave him. The trouble begins and we have K, in his bathtub, having a surreal dream of being lost in Siberia without his cigarettes. No Smoking review read further…
"What do you want for our anniversary?" asks the arrogant husband admiring himself smoking, while his wife looks though him and utters- "Divorce".
Want a cure to divorce? The better quit smoking.
The movie has parallels to "Kafka" and Steven Spielberg's "Schindler's List". Hallucinogenic images are portrayed amidst a deluge of cryptic dialogues. The narrative plays a dismaying mind-game where the smoker-hero gets trapped in a sewage underbelly, an underground world somewhat referring to the slums of Dharavi in Mumbai.
It also has a sinister Baba Bengali (Paresh Rawal) presiding over freaks and cranks, all photographed in sepia-toned colours. This Baba guarantees results provided his strict rules are followed.
So when Anjali finally leaves him, K decides to consult a Baba to help him quit the habit. From depths of Baba's dungeons to the dirty looking atmosphere, the film is peppered with strange characters, stranger situations, stranger friends Abbas Tyrewala (Ranvir Shorey) who's returned after his "course", losing 2 fingers as they are chopped at the Baba's adobe to K's brother who is a German and lying on hospital bed gasping for life.
K is mentally blackmailed not to have any more cigarettes, else worse would happen to his kin and pals around.
The director shows off his technical creativity and ends up with no proper script, and confusing dream sequences of nightmares and reality like the bad dream the hero often gets about being somewhere in Russia where gun-toting comrades take potshots at him.
Trying unsuccessfully to get panoramic shots of Mumbai's traffic, the director succeeds with the John Abraham's sensitive performance as a man more sinning than sinned against – still a viewer is denied his right to be entertained.
Ayesha Takia is watchable and portrays a nice concerned wife, and sometimes as a secretary – which is still a mystery, why?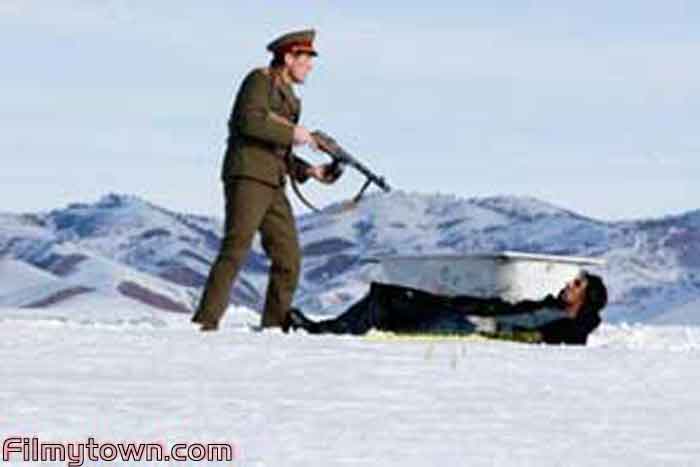 The movie unfolds like a bad dream and spins into a downward spiral that's unreal, incomprehensible and leaves you dazed.
Recommended for those who smoke, but are looking for a reason to quit.
For those who are away from the smoking habit, this movie is genuinely injurious to their health.
Haphazard throughout, the movie succeeds in one thing – it shows rubble of dreams, nightmares, illusions and delusions that take the protagonist from chain smoking to a Hitlerian gas chamber where he's suffocated to death. The message is loud and clear – to QUIT.
Cast of No Smoking:
John Abraham – K
Ranvir Shorey – Abbas Tyrewala
Joy Fernandes – Alex
Ayesha Takia – Anjali / Honey
Bipasha Basu – Special Appearance
Paresh Rawal – Shri shri prakash Guru ghantal baba bangali sealdah wale
Jesse Randhawa – girl in item number
Sanjay Singh
Kiku Sharda – The Doctor
Saif Ali Khan – Special Appearance
Credits of NO SMOKING:
Produced by – Vishal Bharadwaj, Sunil Lula, Kumar Mangat
Director – Anurag Kashyap
Lyrics – Gulzar
Writing credits – Anurag Kashyap
Original Music – Vishal Bharadwaj
Film Editing – Aarti Bajaj
Visual effects – Avik Banerjee
Compositor – Devrishi Chatterjee
Asistant colorist – Mahesh Deshpande
Compositing Supervisor – Sarang Deshpande
Digital Composer – Balakrishnan P.S. Nadar, Naveen Shukla
CG Animator – Dange Sangram
Compositor – Ashwin Singh
Choreographer – Ashley Lobo
No Smoking, movie review