Geet (Kareena Kapoor), a boisterous Sikh girl who is on her way from Mumbai to her hometown Bhatinda to tell her parents about her boyfriend on her way. Habitually, she talks nonstop, and on the way, she runs into Aditya Kashyap (Shahid Kapoor), a young, rich and handsome man who is disillusioned with life after being dumped by his girlfriend. Jab We Met…
Unable to muster up the courage to return home, he drifts out of the gathering and aimlessly boards a train, bounding away into the night. To make matters worse, even his business is going nowhere. A loser in love and now a jilted entrepreneur.
He's on the verge of ending his life trying to jump off a speeding train, when Geet comes and pulls him back. Half way, at Ratlam Station, Aditya decides to leave his ongoing journey to nowhere. Geet realizes that her fellow passenger is not in his seat. Looking around for him at the station, she ends up missing her train while trying to get him on the train. Considering that no sane girl would get down from her train searching for a stranger, she does it as habits die hard. Now she is drawn into his life. Geet makes Aditya realize that it is his responsibility to take her to Bhatinda, as she missed the train because of him. What follows next is a journey across picturesque landscapes where the two discover each other and understand the meaning of love and friendship.
Aditya learns that Geet is in love with one Anshuman (Tarun Arora), and has plans of eloping with him against her family's wishes. She wants to and get married just for the thrill in her life. Barely known to Anshuman and even without knowing what is in his heart about her, she decides in her own mind to leave her family. She wants to do this knowingly.
Shahid Kapoor and Kareena then go through a series of brilliantly conceived and energised incidents that bring them together. Aditya promises to help Geet run away from her home and fulfill her dream of marrying Anshuman, even though he falls in love with her.
Half way down the movie Jab We Met, Aditya keeps his word, and returns to Mumbai, But now he is a changed person, a very new Aditya, who becomes a big businessman. The change is too abrupt, that in just 9 – 10 months, he turns his loss making enterprise into a booming empire.
Though Kareena Kapoor is loud and has overacted in few scenes, her funny and full of life attitude is a treat to watch. Shahid Kapoor, acts composed and provides a perfect foil to the Kareena's bubbly character. Pritam's music also enhances the film with good lyrics by Irshad Kamil.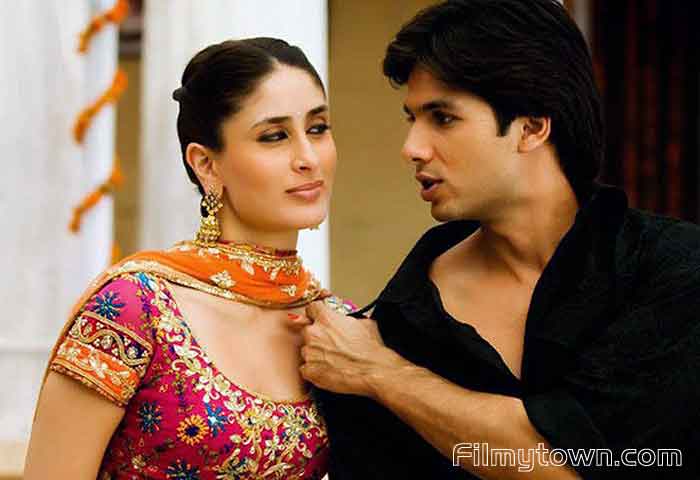 The beautiful outdoors of Punjab and Himachal Pradesh are beautifully captured by N. Nataraja Subramanian's cinematography, and the song where Kareena dances in traditional dress of the locals is just colourful and eyepleasing.
Jab We Met is a fun film, though reminds the viewer of some concepts lifted from Dilwale Dulhaniya Le Jayenge, Hum Dil De Chuke Saname, Pyaar to Hona Hi Tha, and presented in the fresh package of Kareena and Shahid.
The film has several fresh and colourful moments and is definitely worth watching. It surely is a cute film, bound to touch the hearts of those who are in love.
Cast of Jab We Met
Shahid Kapur, Kareena Kapoor, Kiran Juneja, Dara Singh, Samuya Tandon, Pawan Malhotra
Credits of Jab We Met:
Producer: Dhilin Mehta
Director: Imtiaz Ali
Original Music : Pritam Chakraborty
Cinematography : Nataraja Subramanian
Film Editing : Aarti Bajaj
Music Department
Sandeep Shirodkar – Song Programming arranger
Yashika Dhillon – Assistant Choreographer
Jab We Met, movie review