Debutante Sara Ali Khan and Sushant Singh Rajput are the only two reasons one should watch Kedarnath which is a romantic-disaster film written and directed by Abhishek Kapoor. The film is a love story amidst the cloud bursts resulting in flash floods that nearly destroyed the town of Kedarnath.
The flood water gushed on both sides of the temple destroying everything in its path surrounding the Kedarnath temple, while a huge boulder that got stuck behind the Kedarnath Temple protected it from the ravages of the flood's fury, hence the temple itself survived.
Kedarnath review
The film begins with picturesque setting of the Kedarnath pilgrimage trail that follows the arduous life of a hardworking 'pithoo' (porter) Mansoor Khan (Sushant Singh Rajput) residing with his mother and the bread-earner of his family. Mansoor is kind hearted boy whose primary aim is to port the old pilgrims to long way of more than 7 kilometres of uphill trek to reach the Kedarnath temple. At times he is more than kind hearted to let go off the balance amount to be recovered from his task which is often pointed out by his mother.
Mandakani "Mukku" Mishra is the daughter of a Brahmin priest at the Kedarnath temple complex. Her would be brother-in-law has broken his engagement with her sister in order to get married to her. Justifiably, she is upset but the 'upgrade-change' has been accepted by her father. This is one of those aspects in the film which creates disturbance in the viewer's mind. More so because Mukku isn't a meek character like her parents. She is the rigid girl who would not let anyone come between watching the cricket matches.
Since this premise comes in the beginning of the film, it becomes difficult to understand the events that unfold later on in the film that appears to be designed on the lines of romance-disaster drama of the 'Titanic' genre. This is where the conflicts arise in the minds. There are few other instances of this sort which take away the 'awe' factor in this otherwise superbly shot film in the snow-capped peaks of the Himalayas in Uttarakhand.
Sara Ali Khan is impressive with her chirpy behaviour, stubbornness and is realistic as the 'pahadi' girl. Sushant Singh Rajput underplays his role in yet another convincing performance. The cloudburst and the rage of the waters that followed has been portrayed superbly in the film.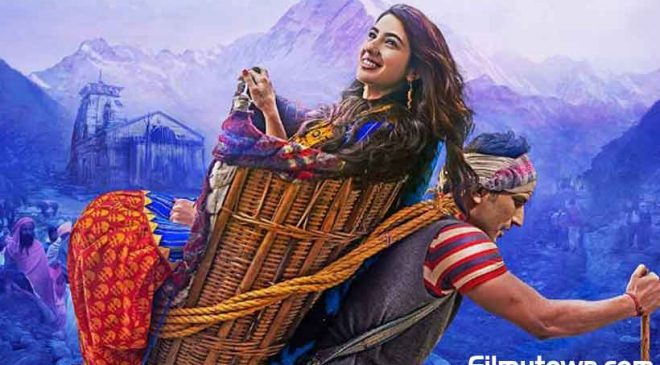 Cast of Kedarnath:
Sushant Singh Rajput as Mansoor Khan (porter at Kedarnath)
Sara Ali Khan as Mandakani "Mukku" Mishra (priest's daughter)
Nitish Bharadwaj as Briraaj (the priest)
Alka Amin as Mansoor's mother
Sonali Sachdev as Lata as Mukku's mother
Pooja Gor as Brinda (Mukku's older sister)
Nishant Dahiya as Kullu
Mir Sarwar as Bashir
Sunita Rajwar as Daddo
Arun Bali as Chief Priest
Faiz Khan as Hemchand
Credits and Crew of Kedarnath:
Production company – RSVP Movies, Guy in the Sky Pictures
Directed by Abhishek Kapoor
Produced by Ronnie Screwvala, Pragya Kapoor, Abhishek Kapoor, Abhishek Nayyar
Story by Abhishek Kapoor and Kanika Dhillon
Music by Amit Trivedi
Background score: Hitesh Sonik
Cinematography – Tushar Kanti Ray
Edited by Chandan Arora
Kedarnath – movie review