Abhay Narula (Gautam) and Vasundhara Dave (Nisha Kothari) are neighbors and fall in love. They are from affluent families, their parents disapprove of their relationship and so they take off from their homes and rush towards Goa. Go movie review continues….
Everything was easy and beautiful until their motorbike breaks down. They get a lift by the injured Chief Minister's Personal Assistant who is fleeing the city since he has the audio cassette which proves that the CM is responsible for his deputy's murder. This injured PA to the CM dies on the way.
Its adventure in the rains, dancing around, and running away from the killers who want the cassette at any cost.
They also come across an assailant Ranga (Sherveer Vakil), a rogue cop Nagesh Rao (Kay Kay Menon) and a con-man Jagtap Tiwari (Rajpal Yadav).
The storyline is short as told here. The director have therefore presented a muscled boy with an actress in provocative (and least possible) clothes partying right from the beginning to dancing in the rains even when the bad guys are chasing them.
There are some good stunts in the movie. Some special effects are used and the director has tried to make this movie as a peppy young romance
Debutant Gautam is usual showing off his muscles, abs, dancing and fighting prowess. Nisha Kothari is peppy, colourful and sexy looking in the scantiest of clothes. The director seems to present vivacious Nisha to fill in discomfort arising out of thin storyline, usual screenplay and nothing great in the movie.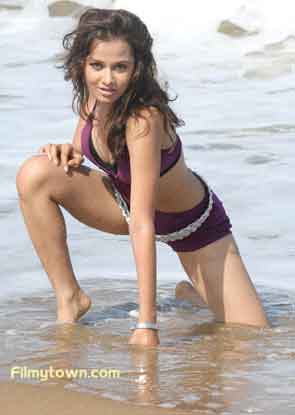 Nisha Kothari and Gautam Gupta in Go.
Rajpal Yadav plays a kind of kooky con-artist, Kay Kay Menon plays a twisted cop, there's also one ugly, long-haired Sherveer Vakil playing a hit-man who's got a weakness for chocolate – these are the chaps who actually somewhat act in the film.
The film's weird climax is meant to please the front benchers and make them laugh. Definitely not a movie which could be expected from Ram Gopal Verma camp.
Cast of Go:
Gautam Gupta – Abhay Narula
Nisha Kothari – Vasundhara Dave
Kay Kay Menon – Nagesh Rao
Rajpal Yadav – Kay Jagtap Tiwari
Ravi Kale – Arjun Patil
Sherveer Vakil – T. S. Ranganathan
Credits of Go:
Producer – Ram Gopal Varma
Director – Manish Srivastav
Writer – Arshad Sayed
Music Director – Sneha KhanwalkarOriginal Music by Sneha Khanwlkar
Cinematographer -Jailesh Oberoi
Film Editor – Manish More
Visual Effects:
Robert Lang – digital intermediate sequence
Steve Shaw – digital intermediate supervisor
Colourist – Pixion
P. Kumar – stunt coordinator
Go – hindi movie review