The movie is a horror movie that tries to deliver a social message to its audience. Gauri – The Unborn associates abortion to killing of a living person that too, killing an unborn life, is a social crime. The subject of the movie seems outdated and may be unacceptable in this modern and a progressive world.
Coming back to the earlier times, when Sudeep and Roshni were expecting their first child, they had named the unborn child as Gauri. Seven years later, the ghost of Gauri returns to haunt them, with her spirit entering the body of their daughter Shivani while they are holidaying in their ancestral home. It was here that the unborn child Gauri was conceived. Now the unseen force threatens to take their daughter Shivani away from them.
The aatma of the unborn kid swears revenge, and then the sequence of events that unfold follow are really scary at times. And then what unfolds is hardly spine chilling. Seven years later, the ghost of Gauri returns to haunt her parents, with her spirit entering the body of their daughter Shivani.
The aborted child comes to her parents to take revenge for her death. The message in Gauri – The Unborn is that the unborn child once conceived should not have been aborted by the couple.
Gauri – The Unborn has a different story along with some chills-n-thrills which would give you the jitters in a couple of scenes. Nowadays, abortion is no big deal for most couples, yet it is made a big issue here. Anupam Kher, a wise old man, tries to convince his son – not to abort their first born. Anyway, since his son is just settling in life and even their marriage is still young, and they go ahead and abort their firstborn.
Sudeep (Atul Kulkarni), now is an established architect and resides with his pretty wife Roshni (Rituparna Sengupta). They now have a daughter – Shivani (played by Baby Rushita Pandya). The family plans to go for a holiday to Mauritius, however it is Shivani who insists on going to their ancestral home. Half heartedly, but to keep their only daughter happy, the parents agree and visit the ancestral home.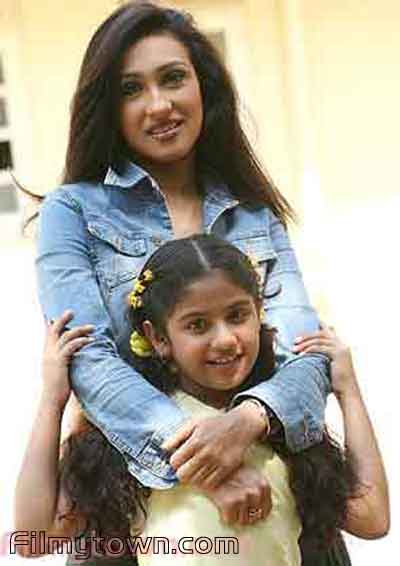 The climax is indeed fresh and the director succeeds in sending home a socially relevant message effectively. The movie tries to say 'No' to abortion. Yet it still has excellent and skillfully executed visual effects which are smartly integrated in the narrative.
Director Aku Akbar makes a convincing debut. Cinematography is up to the mark. Background score a bit too loud at places. Atul Kulkarni is plain mediocre. The sweet looking Rituparna Sengupta does her role very well. Highlight of the movie is a scene stealing performance by the baby girl Rushita Pandya while the grandpa Anupam Kher does his part well in a small role in the movie.
Cast of Gauri – The Unborn:
Mohan Azaad – Sameer
Anupam Kher – Paapa
Atul Kulkarni – Sudeep
Manasi – Neena
Rushita Pandya – Shivani
Praanav – Bhim Singh
Rituparna Sengupta – Roshni
Sian – Baby
TECHNICAL CREDITS of Gauri – The Unborn:
Presenter: R Mohan
Banner: Myth Productions,Adlabs Films Ltd
Producer: Amit Mohan
Director: Aku Akbar
Produced by – Sapna Amit, Amit Mohan, R. Mohan
Writing credits – Mohan Azaad, K. Gireesh Kumar
Original Music by Raju Singh
Cinematography by Viswamangal Kitsu
Film Editing by Kiran Rajput, K. Ravikumar
Art Direction:
Prasanna Karkhanis, Yeshwant Patil
Sound Department – Boby John
Sound mixer – Pramod Thomas
Visual Effects Supervisor – Prasad Sutar
Production Controller – K.S. Ravindran
Gauri The Unborn, movie review