John Abraham rocks in Dhan Dhana Dhan Goal!
John surely can and very naturally can juggle a football well. He is simply the star of this movie and plays the sport like a professional footballer.
The current bunch of movies on sports like Iqbal, then we had Chak De India and now Goal is definitely fresh and nice, breaking away from the stale – lost and found brothers and lately the 3 to 4 dosts on an outing: Dhol, Dhamaal, Golmaal… sort of trends.
Though a football movie, it also dips into issues like racism and fanaticism linked with this sport. The film achieves in arousing patriotic feelings and also has its share of highs and lows.
Dhan Dhana Dhan Goal is a story of Southall United Football Club in the United Kingdom which is facing its deepest crisis ever. In spite of having a sprawling ground and the stadium, this club has no stars, no coach, no sponsors, no takers and most importantly, no owner. An eviction notice is served to this club from the City Council which is masterminded by the real estate sharks.
Almost all players in the Southall UFC are Asians, Shaan (Arshad Warsi) is the captain and takes up the challenge to save the club from extinction. The first step is to find a good coach and he finds it in a not well regarded ex-player Tony Singh (Boman Irani). Now it's the coach's turn to ignite a burning desire within his players. In the process he gets a prize catch in the form of Sunny (John Abraham), a British born Desi Indian.
Sunny is highly talented, who looked down upon this Southall team till now. Sunny was, until now, playing with Aston Villa an established club and was their top striker – a star. But due to some racial discrimination, Sunny was not selected by this elite club which mainly had the Brits in their team.
We have Rumana (Bipasha Basu) who is Shaan's cousin and is a doctor who then doubles up as Southall UFC's physiotherapist. She falls in love with Sunny.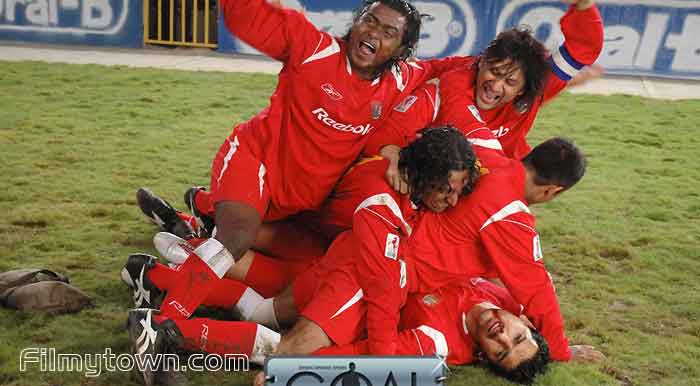 The football season commences, and we have the Southall United team gradually climbing up the points tally much to the surprise of all the football fans. They find a high profile sponsor and now even the media starts highlighting this team and also in due course focus on their star player – Sunny. A television commentator Johny Bakshi has some evil plans, hence he lures Sunny to join another elite team offering him best of the perks and huge cash advance.
Beneath the spirit of sportsmanship, there are acidic remarks and barbed comments in the wars between football teams and even between the members of the same team.
There is some style and substance in Dhan Dhana Dhan Goal. We have striking cinematography and simple yet well handled story here. John Abraham lends the right texture to his character. Arshad Warsi is wonderful in a sober and serious role, Bipasha Basu adds zing to the goings-on in a not so lengthy role. Boman Irani is first-rate, Raj Zutshi as the Sardar is even better and more impressive. Dalip Tahil does his malicious part well.
In the first hour, the movie is just about ordinary although the portions in the second half is just pleasing and we are further treated with an exhilarating climax. It is a nice film and John Abraham is the guy who has a bright future. Watch out the Khans….. John is here !
Cast of Dhan Dhana Dhan Goal:
John Abraham – Sunny Bhasin
Bipasha Basu – Rumana
Arshad Warsi – Shaan
Naveen Andrews – Hanif
Dibyendu Bhattacharya
Boman Irani – Tony Singh
Gilbert Montoya – Football player
Kushal Punjabi
Sanjay Sharma – Akash
Dalip Tahil – Johny Bakshi
Rajendranath Zutshi (Raj Zutshi)
CREDITS of Dhan Dhana Dhan Goal:
Produced by Ronnie Screwvala
Executive producers – Devan Khote, Zarina Mehta, Prem Pillai
Writing credits: Vivek Agnihotri, Anurag Kashyap, Rohit Malhotra
Original Music by Pritam Chakraborty
Cinematography by Attar Singh Saini
Music Department:
Sandeep Shirodkar – Song Programming
Dhan Dhana Dhan Goal, movie review