Why do girls always fall for the wrong guy? Their mothers warn them about him. Their friends shake their heads disapprovingly. Their minds tell them to escape while the going is good. But no! oh no! Their hearts are another story. You see, they are sending all the wrong signals. His name alone is enough to scramble their brains and set their hearts racing. Bachna ae Haseeno movie review…
Meet Raj. He is the stuff of dreams, with the looks of a 'butter wouldn't melt in my mouth' good boy. Who can blame him for falling in love as many times as love is fortunate enough to find him. It's not his fault that he's a heartbreaker, it's in his DNA.
Come discover his three love stories; Raj and Mahi, Raj and Radhika, Raj and Gayatri.
Different ladyloves at different times in his life. And each of them, teach him a little bit about love and a little bit about life, in their own sweet, sexy or sassy way. Come fall in love… three times.
Raj (Ranbir Kapoor) is the accidental lover. Easy, boyish charm is something no guy can cultivate. You have to be born with it. Like Raj. He's not your regular boy next door though he has a misleading quality; his 'butter wouldn't melt in my mouth' good boy charm. Couple this with a sense of humour and an unintentional sex appeal and you have a package that is lethal in its irresistibility. So, really, you can't blame the poor boy for the effect he has on women. At the same time he's not really complaining.
Mahi (Minissha Lamba) is sweet, romantic and innocent. She believes that the world is her oyster. So what, if it was limited just to Amritsar most of her life. That doesn't stop the universe from conspiring to make all her wishes come true. Her life is made of stuff rarely found outside of a Hallmark card. She is a happy child. The chosen one. She truly believes that nothing bad will ever happen to her. Her path will be decked by rainbows and strewn with flowers. That's where she walks, humming a happy song, with a Mills & Boon in one hand and her one true love holding the other.
Radhika (Bipasha Basu) is the gorgeous one. She's a sexy and confident girl. Lives in Mumbai, on her own terms. In her own flat. She is a dancer with Shiamak, and has the ambitions to shine on the silver screen. She is a girl of today. She doesn't feel any false modesty when it comes to showing her feelings for the opposite sex. She shrugs away all the old fashioned rules set by society, as she believes in doing what makes her happy. As long as, it doesn't compromise with the happiness of her lover.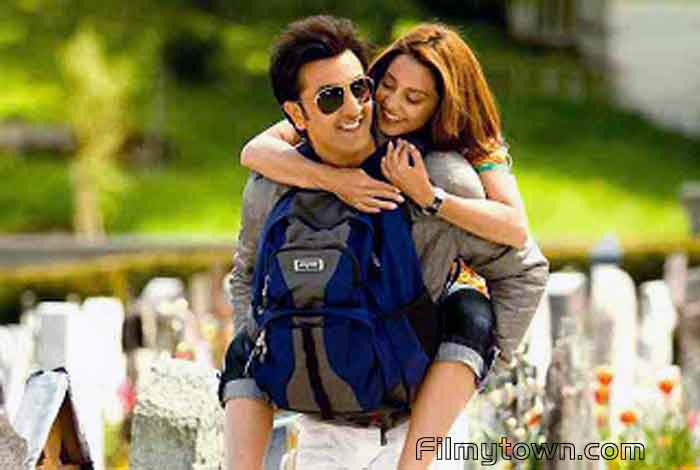 Gayatri (Deepika Padukone) is is like any of the other girls who move to another country to study and to eventually make it big. And yet, she's unlike any other girl. She's smart and she's sassy. She's beautiful and she's ambitious. She knows what she wants and she knows how to get it. Life can be tough for a girl living alone in a strange land. But Gayatri is fearless. Her already beautiful eyes sparkle when faced with challenge. Nothing will stop this girl from achieving what she wants from life. Or from love.
Ranbir is the latest heart-throb of girls. He is talented and dances well and is handsome. Bipasha Basu is the sexiest looking of the 3 girls in this film. Minissha is pretty & cute and so is Deepika who has a stunning screen presence. Impressive background score by Salim-Sulaiman, classy direction and it has three songs which are chartbusters – 'Khuda Jaane' , 'Ahista Ahista' and 'Lucky Boy' which are bouncy musical numbers featuring these three stunning beauties, shot on striking locations and oozing breathless romance. Bachna ae Haseeno is recommended as a good entertaining watch.
Cast of Bachna ae Haseeno:
Raj Sharma Ranbir Kapoor
Mahi – Minissha Lamba
Radhika / Shreya Rathod – Bipasha Basu
Gayatri – Deepika Padukone
Sachin – Hiten Paintal
Joginder Singh Ahluwalia – Kunal Kapoor
Mahi's father – Puneet Issar
Taxi Passenger – Cameron Pearson
Credits of Bachna ae Haseeno:
A Yash Raj Films Production
Presented by Yash Chopra
Producer: Aditya Chopra
Director: Siddharth Anand
Music: Vishal Dadlani, Shekhar Ravjiani
Cinematography: Sunil Patel
Executive Producer: Aashish Singh
Choreography: Ahmed Khan
Story: Aditya Chopra
Screenplay: Devika Bhagat
Dialogue & Lyrics: Anvita Dutt Guptan
Production Design: Sharmishta Roy
Editor: Ritesh Soni
Sound: Rishi Oberoi
Costume Design: Aki Narula
Executive / Line Producers – Padam Bhushan, Mitu Bhowmick Lange, Aashish Singh
Casting by Bidyut Dumra
First Assistant Director – Bharat Rawail
Production Secretary – Louisa Renard
Publicity Design: Fayyaz Badruddin (YRF – Design Cell)
Stills: Abhay Singh
Bachna ae Haseeno, movie review