Bollywood is widely known by its star power, superstars, huge fan following and hit films raking in hundreds of crores. But this happens to a handful few films in a year. Its cousin – the Television industry might not have superstars but almost every Television show offers opportunities for the talented ones who often become a household name.
Never under-estimate the power of Television.
FilmyTown profiles Rina Rani who comes from a small sleepy town of Thawe in Gopalganj district of Bihar. Now Rina is a popular TV actress widely known by her character's name Dumri Wali Chachi.
Having done several Bhojpuri films, Rina Rani began her career in Television industry with the TV serial 'Khandaan' being aired on Mahuva channel. She has done cameos in Jhansi Ki Rani and CID, later bagged a full-fledged role in "Phulwa" that was aired on Colors channel.
She has done a Bollywood film "Mirza Juliet" and was selected to do an ad film with Amitabh Bachchan for 'Swatchta Abhiyaan".
FilmyTown chats with this Bhojpuri actress who is all set to venture into Bollywood. Rina Rani is currently basking in the success of her show 'Nimki Mukhiya' where she plays the protagonist 'Dumri Wali Chachi' which airs on Star Bharat.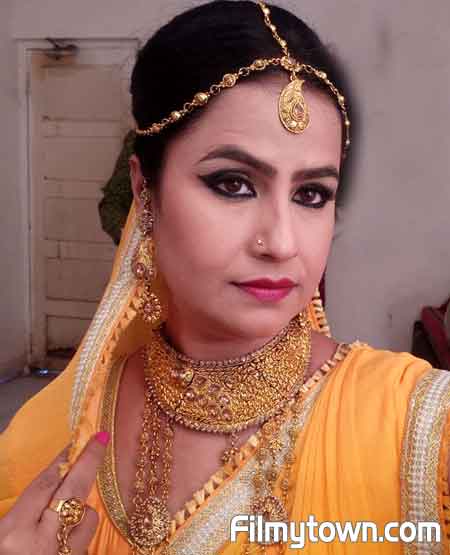 Didn't your parents wish that you pursue IAS?
My father is a principal of Teachers Training College, mother is a double graduate in MA and a teacher. Before I joined television, those days Kiran Bedi was very much in the news and my parents wished that I too pursue studies to become an IPS or IAS officer. That time I was tomboyish and idolized Kiranji.
I never thought of taking acting as a profession while in school, but things happened when I went to Patna for further studies and that is where I got a break in college to do theater. I was lucky that my parents were supportive of me to pursue theater along with my studies. I also won the title of 'Miss Bihar' in 1999.
I launched my career in the television industry as an anchor in the game show "Mrs. Bhagyashali" for ETC Bihar Channel. It was a game show wherein I used to go to various homes in Bihar, interact with housewives across Bihar, make them play various games and goodies were given as prizes to them. Even now many women identify me as Bhagyashali madam.
So has your character of 'Dumri Wali Chachi' in 'Nimki Mukhiya'.
Without any hesitation, I feel that full credit of popularity of the show goes to the producers Zama Habib and Ishrat Ara . Zama Sir is also the writer of the show and he writes amazing screen play and dialogues.
What is the work culture of Television industry?
The Television industry works Monday to Saturday with 12 hours shifts with an hour's lunch break in between. Its hard work and not as rosy as outside people imagine. But I love my work and have no complaints as such.
The unit becomes your family and everyone is treated well. This is what I love about Mumbai.
How different it is working for Television vis-à-vis in Bollywood?
You become a household name while doing Televison serials. One attains instant popularity. Even big production houses come to Television for promotion of their films.
Working in films is something different. You are working on a larger canvas as films have big budgets. Everything is on a grand scale and if the film clicks with the masses, the character attains a different high among their fans. Usually one has a couple of films releasing in a year.
I am enjoying my popularity doing Television. Now I am getting offers to do films and I am keen on doing strong characters like the one I am presently doing that of 'Dumri Wali Chachi which has various shades of being loud, bright, caring, emotional, mixed and Gossip Queen.