After the grand success of their film 'Twosome', filmmakers duo Udayyan Raathore & Divya Baghela Rathore are all set to release their next Film –Silence of Sleep.
Having amassed critical appreciation after doing rounds at Marche Du Films 'Cannes Festival' & other International film festivals, Silence of Sleep releases on Gemplex OTT on 20th May 2020.
'Silence of Sleep' is a Psychological Suspense thriller shot in the beautiful hills of Uttarakhand in places like Kausani, Nanital & Ranikhet.
The duo Udayyan Raathore & Divya Baghela Raathore speak to FilmyTown about Silence of Sleep:
FT: Given that your next thriller is set in picturesque Hilly regions in North India. Do we expect the visuals of beautiful locales, scenic beauty blended with suspense and thrills?
Udayyan: We feel that certain places in Uttrakhand hills are more beautiful then Europe & these Himalayan region locations are apt for a thriller flick. Having said that let us emphasize that we got a lot of support from the local people of Uttrakhand. It is high time that other Filmmakers should think of exploring Uttrakhand as it has lot to offer.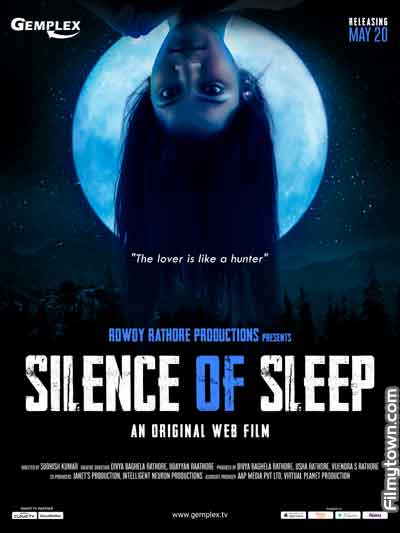 FT: A bit about the subject of SILENCE OF SLEEP without giving away its suspense.
The film is a psychological thriller, a roller coaster ride in which two people try to control each other's minds through hypnotism. Be careful, you might get hypnotized while watching it.
FT: Could you give in a little about the characters, cast and about their performances?
Udayyan: The lead cast Rishabh Raj Mehrotra & Naina Khan are tremendous actors; very hard working & disciplinef to the core. Rishabh was also the lead in our comic flick Twosome. Apart from them we had seasoned actors like Krishna Srivastava & Rahul Tomar. In fact we even made our Dad act in the film and to our surprise he remembered all his dialogues. All of his scenes were perfect in the first take itself. Being an ex-armyman he proved that an Army officer can excel in any field.
Our DOP "Kartik Katkar's" work also was appreciated a lot at the international market.
FT: You guys Udayyan and Divya aren't even a bit of the typical Bollywood filmy types. No airs, unassuming, simple and particularly Udayyan appears as the 'grown-up boy next door', down to earth, outspoken and frank to the core. Therefore, with regards to filmmaking in Bollywood, is this virtue a bane or a blessing in your journey?
Divya: Blessing obviously as we enjoy our Work and only create Buzz when it needs to be done. We let our Work do the talking and keep people guessing. And yes… We ain't the typical Bollywood Filmy Types but WE definitely are VERY FILMY.
FT: People often say that unlikes attract each other, right? However in your case you and Divya have so much in common. What is it that keeps you both hitting the target bang on – with regards to your vision, the story and its unfolding, and your filmmaking styles to come up with such awesome flicks?
Divya: We both are creatively blessed and have the knack of choosing the right story & presenting it in the most dramatized way in the form of moving images, Also since Udayyan is very witty and I am someone like Alice in Wonderland, this savory combination brings out the best in our projects.
Luckily, Both of our films with varied subjects have connected very well with International audience at the festivals.
FT: What's next in your kitty?
Udayyan: We have our regular jobs and for us filmmaking is like a hobby or lets say it's a passion. Like some people have a hobby of Photography, exploring places etc., our hobby is making films. Every two years we come up with a project which we take to International Festivals.
Next on the block – We are planning to make a Documentary on the lines of spirituality. We plan to run it through all the major festivals next year
FT: Isn't a time-frame of two years too long as the audience is yearning to see such interesting takes on real life like subjects more often?
Divya: It takes time to plan a good project. In the age of fast speed jets, we would still prefer to be on Euro Rails (with a giggle)… Enjoying, observing & not missing on any beautiful Frame. But definitely we would consider Filmy Town's advice & plan to make projects more often.
FT: Amongst the whole lot of VOD platforms, why have you chosen to remain with Gemplex?
Gemplex is a niche Video-on-demand platform having their presence in India and 50+ countries worldwide. They have an amazing range of contents targeted at all sections of the society. Our earlier Film "Twosome" has got a thunderous response on Gemplex. It was an instant eyecatcher for the audiences and it was trending for over a month, therefore, We think Gemplex is the right platform for this film.
FilmyTown readers can check out this link to the first look/trailer of SILENCE OF SLEEP: https://youtu.be/mamAqG9yV7E