She belongs to the new breed of actors who have comfortably adapted to the hectic schedules, hard work and dedication required to sustain oneself in the current trend in the Television Serials industry.
Garima Arora landed in Mumbai towards the end of 2016 and in January 2017 she bagged a role in Pardesh Mein Hai Mera Dil (Star Plus) and then made her mark in the Television industry with her roles in Kumkum Bhagya, Ladi, Bakula Bua, Chakradhari, Chandra Nandini, Chandrakanta, Kaali, Suhani Si Ladki, Ae Zindagi, Yeh Hai Mohabatein, Balkrishna and pivotal roles in Savdhaan India and Crime Patrol.
This 'Bareily ki barfi' speaks to FILMY TOWN about her undying interest in acting right from her school days to convincing her family to enter the Television industry – an inspiration for the aspiring young girls and boys looking out to make a career in Television and Bollywood film industry.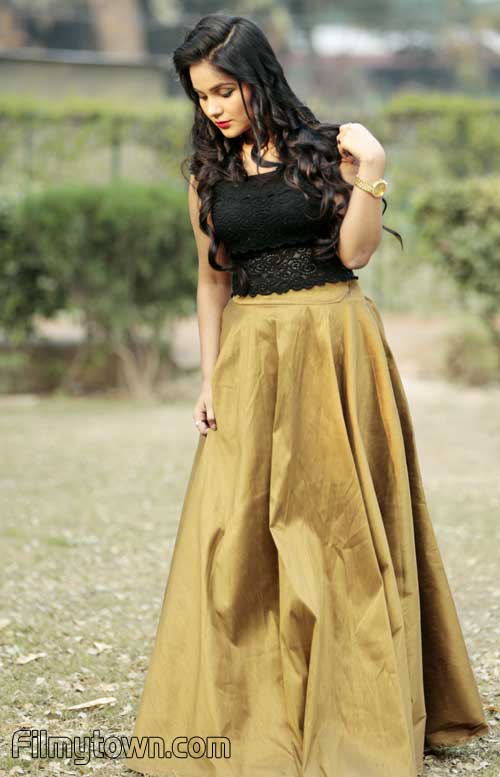 How was it to convince your family to let you try out a career in action which has been your passion since your school days?
Like any mother in a traditional and conservative society of Bareilly, my mom always wanted me to graduate and then settle down with marriage. Whenever  my mother came to know during my school and early college days, about whenever I acted in some plays, 'mujhe bahut data aur maar bhi padi' (I was scolded and punished). Being stubborn, I still persisted and thankfully with support from my sister, I could convince her to let me come to Mumbai and try it out in the acting field. My sister has always been my strength and support. Then I approached Balaji Telefilms who displayed utmost professionalism, and after my screen test, I got a call from them for Pardesh Mein….
And then the day came… When I saw myself on Television, I had tears rolling down my eyes.
You have done almost a dozen TV serials. Briefly mention about various characters.
I was a Queen in Chandra Nandini which also was my glamorous avataar, the lead in one chapter of Savdhaan india, and then various shades of negative characters too (giggles).
How is it working in the Television industry?
It is hectic. We work from 7 am to 5 pm and sometimes it goes on till 10 in the night. Then again, the next day its reporting time at 7 am. But I am not complaining because the remuneration is good and I want to make the maximum while riding the success wave.
Having established on Television, tell us about your entry into films.
I have just completed my first feature film "Uljhan' which is a murder mystery and am now featuring in 'The Last Sentence' which is a political drama. There are several offers in my way but I am not in a haste to sign films without listening to my character. I need to carefully shape up my Bollywood career.