After a brief stint with FM Radio channels and television shows, Abhishek Bhatnagar, an Indie Filmmaker began his career as a script supervisor with the feature film Nie means Nie (Hindi & Polish) in 2016. Then he worked as a Line Producer was involved in their shooting in 8 different states all over India for a Polish TV show Bracia Collins (Polish Discovery Show) that was released on Discovery Channel in Poland.
After learning film making skills as a creative director, floor manager, script supervisor and the post production work, his debut film – Waster was recently released on an American Streaming Platform called Neestream. Last year they released the most talked about film of the year The Great Indian Kitchen.
Obsessed with works of International filmmakers of the likes of Duplass Brothers, Abhishek has just finished his second feature film for the festival circuit – A Passenger in Love.
How far would a doting father sacrifice his ethics just for his daughter's happiness?
Paresh B. Mehta, editor of FilmyTown chats with Abhishek Bhatnagar:
As you are from a non-filmy background, what made you take up the profession of filmmaking?
I always have all these mixed thoughts in my head and I don't knew how to settle them until I started writing and later, I understood that this is my medium to release the energy and share my ideas to the world through films. I want to tell stories and I want to tell them right away from my perspective so I choose to direct my scripts.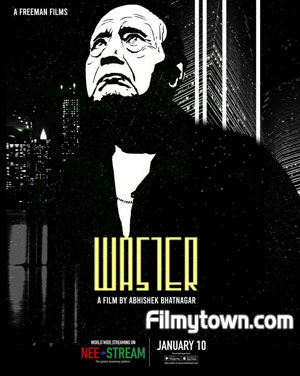 Which filmmakers have you worked in your initial years?
I haven't worked under any filmmaker though I've learned through many of them. Basically, I've learned to watch right films and so it's like as I kept watching these films, I explored new realms of cinema and kept growing from it. These days I am obsessed with work of Duplass Brothers. I would strictly advise every indie filmmaker to follow up with their work.
Mention your filmmaking work and what have you learnt under them?
I have learned a lot from my first feature Waster as it was that kid in the school who passed on grace. We started the film on a teaspoon of budget and was somehow able to complete it on a long period of almost one and a half year due to the Pandemic Lockdown but just because we started it and we honestly wanted to make a film we actually did it. It is a black and white film with a 75-year-old actor playing the lead character which doesn't sound lucrative to many producers and buyers but still we made it and luckily it got its audience. Eventually moral of the story is make what you want to make. Do not compromise on your vision, emotion and art.
Mention about other films that you have completed.
Apart from Waster my sophomore feature, A Passenger in Love is in festival circuit now and hopefully we'll have it release by winters. It is a romance drama shot in beautiful locations of Delhi.
Does the concept of Waster echo purely on your opinion or is it an ensemble of collective vision of people around you?
It neither come through my opinion nor through collective vision of people I would rather say it came to me randomly when I first saw this dead pan old brat who I desperately felt to shoot. So, I concocted a story around him and wrote my screenplay in a week and somehow got him on board to act.
Your second film A Passenger in Love is also targeted to niche audience. What is the significance behind it?
As I told you I want to honestly tell what fox-trot inside my brain and I totally want to make films to dissolve it. I want to tell my audience what I feel in this big world. If this ruthless feeling divides my audience but brings content to me. I think I am there. However, I think A Passenger in Love will still have a bigger reach as compare to Waster because it's woven around romance. I believe many people easily connect to nostalgia. Though I do fear that English language might axe the audience here in India.
Do you have plans to make a commercial film for mass audience?
I am already writing my third script and fortunately the idea itself is very relatable as it is totally based on social media generation and so I suppose it might work for mainstream folks as well. However, I will still call it Parallel Cinema.