Kandima Maldives presents an anything but ordinary wedding & honeymoon experience in an oh-so-stylish romantic setting.
From an #anythingbutordinary tailor-made wedding or honeymoon planning and experience, oh-so-exciting proposal ideas, to the iconic wedding backdrops, exclusive celebration packages to suit every lifestyle and much more.
Dreaming of a desti(nation) wedding?
KandimaMaldives,the most sought-after lifestyle desti(nation) has got few things can compare to the thrill and romance of jet-setting to say "I do" – and what could be better than an idyllic Maldivian island to celebrate the very start of your newlife?
A secluded 3-km is land surrounded with crystal blue waters, Kandima Maldives is almost impossibly romantic. Guests can experience the ultimate, activity filled couples' escape with a host of indulgences at this extraordinary island setting.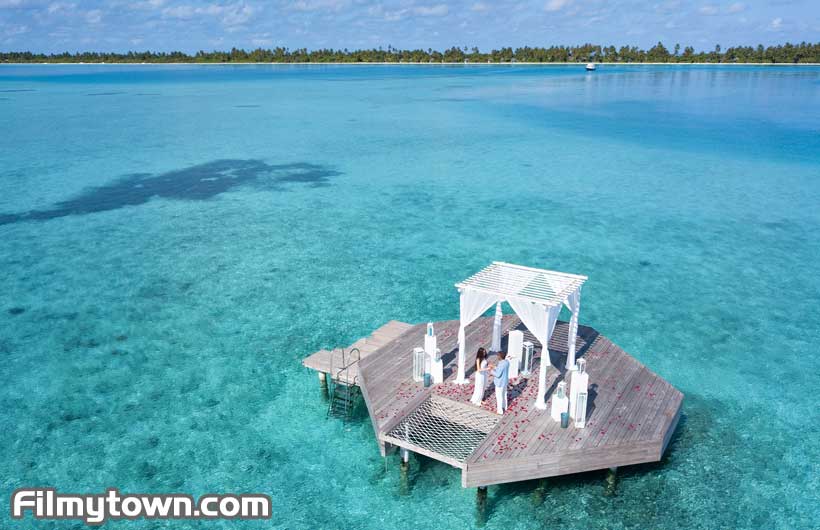 Imagine just how you want your wedding to look like? From the perfect proposal, krazy hen night, Instagrammable pre or post wedding photoshoots, to the most stylish honeymoon. Kandima Maldives offers a brilliantly designed backdrop for your dream proposal, wedding, or honeymoon, so that you and your guests can enjoy the event and trip of a lifetime. The K'krew can even arrange a commitment ceremony or wedding blessing at many picturesque locations at the Island just for you. Kandima Maldives takes pride in being one of the very few Maldivian resorts where experiences are made for guests with different preferences positioning itself as an ultimate lifestyle desti(nation) with affordable luxury as a critical offering.
Be it the award-winning Spa facilities at the esKape Spa or for adventure seeking couples, the extensive underwater and overwater experiences are designed with varied liking and lifestyles. Not to forget Kandima goes all the way to complete the bucket list by offering the exclusive skydiving over the crystal blue waters to its guests, Kandima is sure to match each one's palate!
How far would a doting father sacrifice his ethics just for his daughter's happiness?
Interested in learning some life skills? They 've got you covered! Now learn how the art of k'reating food and drinks from scratch with specially designed cooking classes or cocktail making classes by our own spectacular chefs and bartenders. Now that's what we call a holistic experience!
This romantic setting is perfect for couples who are looking for an intimate wedding, and the wedding team will transform your wedding venue to suit your bespoke needs.The resort has hosted more than 60 weddings and vow renewals for guests from the across the world since it reopened in September last year, as the pandemic prompted a rise in smaller ceremonies and destination weddings.
When you say 'I do' on the island (desti)nation, you'll enjoy tailor-made wedding planning services, so your wedding ceremony is exactly how you have imagined it. From the very first moment, the resort's Kool wedding planners will guide you through each step of the wedding planning process, ensuring a smooth and hassle-free experience.
(Promotional Feature)