Dararein (Feature Film – 90 minutes)
Language: Haryanvi
Genre: Family drama
Looking for: Sales and Distribution
Synopsis of Dararein:
Dararein is an intricately woven tale of the love and rift in a family. There are three brothers – Dilbagh, Suneel, Ramesh, from eldest to youngest. Dilbagh and Suneel live in the village in a semi-joint family, while Ramesh lives in the city with his family.
Just any of these days, Suneel's wife picks a quarrel with Dilbagh's wife for no reason. After the quarrel, her husband Suneel and she demand a partition of the lands and the household. Dilbagh calls up Ramesh to inform him about the partition and asks him to come for the same.
This news becomes a cathartic moment for Ramesh who starts remembering his chidhood when his eldest brother Dilbagh and sister-in-law used to look after him and Suneel with much affection. Bathing in the canal with his brothers, wrestling in akhada, playing antakshari, going to ladies' sangeet with his sister-in-law. He sees a nightmare, which makes him realize his own indifference regarding his brother and sister-in-law in the present time.
However, Ramesh's wife is enthusiastic about the partition. She proposes to him to sell the lands and invest the money elsewhere. Ramesh doesn't like this, but keeps quiet.
Suneel and his wife have similar plans to sell the land after partition and buy property elsewhere. Also. they are hurting Dilbagh and his wife with their shrewd ways.
Suneel's wife asks her kid to stay away from his aunty, i.e. Dilbagh's wife, saying that she might feed him poisoned milk. Dilbagh's wife feels much hurt.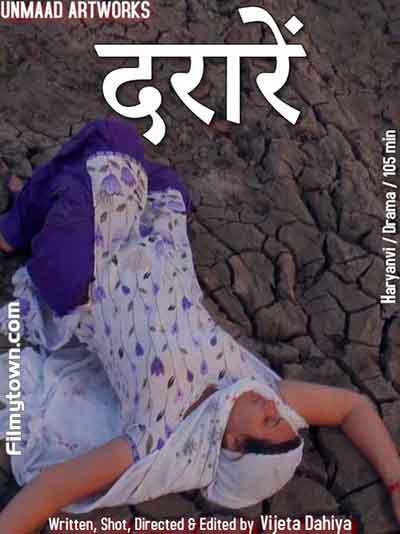 When Dilbagh is roaming in the fields with a neighbour, Suneel greets the neighbour but ignores his own brother.
Dilbagh and his wife are upset while coming to terms with this loss of love in the family. Dilbagh is also remembering how much his wife and he have taken care of the younger two brothers.
The time of partition is coming close. Will the family be finally torn apart by greed or will love conquer?
The USP of the treatment is that it's not the usual black-and-white tearjerker family drama, rather a very realistic and engaging portrayal, with which the audience would relate on a deep level.
Writer: Vijeta Dahiya
Director: Vijeta Dahiya
Producer: Vijeta Dahiya
Movie Still Dararein
Teaser / Trailer link::
Production Company – Unmaad Artworks (Registered with WIFPA)
email: vijetadahiya@gmail.com
Contact: 8860428906 / 9654617640