The IKSA Music night featured melodies from the Golden Era of Bollywood Industry (1951 to 1996) was recently held at Nehru Auditorium in Worli, Mumbai. Apart from paying tributes to the great legendary singers, music directors and lyricists of the Hindi film industry it was heartening to hear live songs rendered by singers who are actually music enthusiasts and lovers of Indian music. None of them were professional singers with some of them having received training but are either involved in their profession or are happy homemakers.
The performing artists of the evening at the IKSA Music night were Manish Chokhani, Vijay Taparia, Sejal Shah, Rajesh Mandawewala, Sanjay Kothari, Tejal Bajla, Ekta Biyani, Aditi Goenka, Sonali Mehta, Priyadarshini Kanodia and Shetu Jhaveri.
"Our mission is to save Hindustani Sangeet and for that purpose, IKSA has been organizing musical evenings – its IKSA Music night for the past 7 years for the benefit of general music lovers and those who treasure our Indian music. We have initiated IKSA relief fund to provide relief to those Senior Bollywood Artists providing financial help and support to those artistes who have unfortunately reached depths of poverty and are unable to sustain themselves," said Indrajeet Keisham the founder of IKSA.
Actress Bindu, Udit Narayan and lyricist Prasoon Joshi highly appreciated Indrajeet Keisham's effort to save our Hindustani Sangeet. "It is an unique effort of Indrajeet Keisham to have built up such a magnificent platform. Once feels so pleased to realize that Hindustani Sangeet is alive and active after listening to songs of the evening's participants, the true value of Indian music; elsewhere one feels that it is just noise happening in the guise of music of present times. What is commendable about the collection of songs chosen for the evening, whether it's the poetry, the emotions of these songs of yesteryears and the melody of the Golden Era of Hindi film industry," mentioned Prasoon Joshi while sharing the stage with Bindu and Udit Narayan.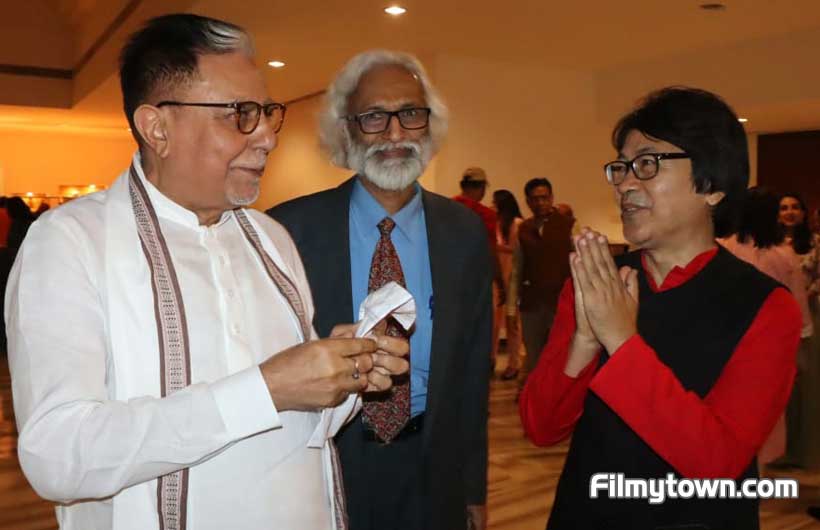 Towards the end of the evening it was Udit Narayan who reminisced his friendship with Indrajeet Keisham recalling his struggling days in the Bollywood industry mentioning particular anecdotes. "There were times when I couldn't get songs and I contemplated going back to Nepal, my hometown but it was Indrajeet who tied me up with his inspirational talks and then came my time where I was finally paid the princely sum of Rupees Three Thousand by cheque (sometime around the early nineties," he recalled.
With cheers and requests from the audience, Udit Narayan had to give in and he performed live beginning with the 'Papa kehte hai' number which established his place in Bollywood and followed it with strings of hits of the nineties. For the audience it was just 'paisa vasool'.