"Udayyan's debutante film 'TWOSOME' as director has opened at Marche Du Films CANNES this year and was appreciated a lot. The film received a standing ovation at the end. Udayyan has the knack of making good films for the international festival market. Udayyan has nailed it as a debutante director." This is the genuine observation made by one of the senior film critics at Cannes as published in a prominent portal.
This is the appreciation earned by Udayyan Raathore in his directorial debut film TWOSOME which carries the Tag Line – One Strange House, Two Strangers and a Stranger Night.. What would you do when you have just One Night to Change everything about you?
Udayyan is married to Divya Baghela Rathore who is also the producer of his directorial debut 'Twosome' (2019) which has Preet Kunwar Choudhry and Rishabhraj Mehrotra the pivotal roles. The film has been written by Pankaj L Pandya
Originally from Delhi, Udayyan did his schooling from Mayo College Ajmer and followed it with MBA in Advertising. "You dont need crores of Rupees to make a good film. We had a crew of just 8 people including the actors and the entire film was shot in four days. One needs genuinity, good story and focused approach to make a meaningful film," remarked this debutant director who has now 'permanently nailed' his immense prospect in the Bollywood.
FilmyTown editor PARESH B. MEHTA speaks to UDAYYAN RAATHORE  the director of TWOSOME.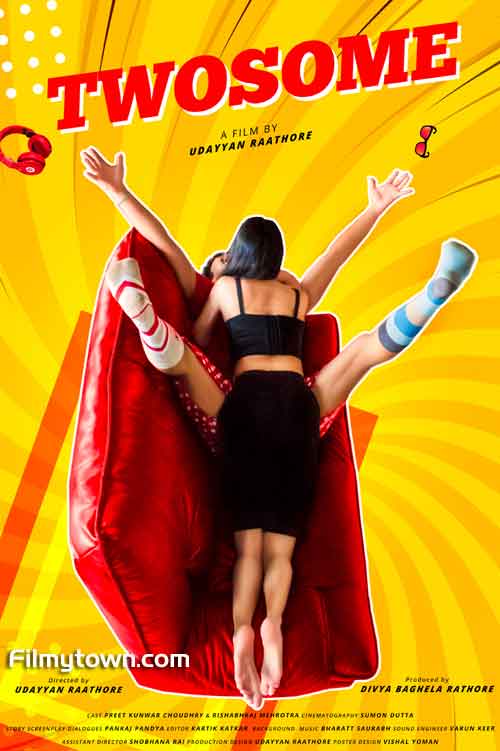 What is the film TWOSOME about?
This film is basically about people who come to Mumbai to achieve their dreams, either an actor, director, writer or whatever. Every month thousands of people reach this city of dreams but only one in a thousand achieves something, this movie is an inspirational story for those thousands or lakhs of dreamy eyed starters.
While not everybody who reaches this 'Mayaa Nagri' becomes a super-star, destiny may have chalked a different profession for the others. The smart ones opt their way of diversion while there are numerous who are still in the hope that yes one day we would make it to the top.
Would you like to reveal the broad storyline of TWOSOME?
A series of strange events unfold when two strangers get stuck with each other for an entire night. Their life turns into a game and the game then turns into their life. Both of them are trying to hide something from each other but as their conversations grow with the night, things start to unfold in the most mysterious way.
It is a comedy film with a social message.
Trailer of the film shows some erotic scenes.
TWOSOME has a strong message in the story. I would not deny this thinking, but in our film there's only one hot scene which is as relevant and very natural akin to the lifestyle of today's youth. There is nothing sleazy shown.
What was your experience at Cannes?
There is audience from the entire world and you get to see the taste of other festivals too. Being my first movie I was thrilled as it was screened there and was more thrilled on seeing the standing ovation that my film fetched.
You are from advertising & Production background and then hopped on to film-making. What have you learnt from your debut film?
A budding filmmaker needs to know about every aspect of Cinema – production, budgeting, about cinematography and writing to even handling the actors.
In a lighter vein, I often mention to the seniors in my family who are from army background that filmmaking is nothing less than fighting a war.
Coming back to Cannes, being an Indian filmmaker, how was their attitude towards you?
You would be surprised to hear that the people at Cannes are very lovely and warm towards you, irrespective of where you come from. They genuinely welcome you and encourage you more so if you are a debutante filmmaker.
A great milestone achieved. Now what is next on your agenda?
Buoyed by the response received at Cannes, now we are taking TWOSOME to several other film festivals too.
Also I would like to make a film about the lives of people after they cross 60 years of their lives. This film will be purely comedy genre and again aimed at Festival audiences.
What is your message to millions of youth who aspire to achieve something in life?
Mumbai is the land of ample opportunities. If you have come to Mumbai leaving everything behind (your home, family, etc) to become something, THEN YOU OUGHT TO BECOME SOMETHING! Never lose focus of your professional goal.
TWOSOME premiered at Marche Du Films Cannes Festival 2019
Genre: Comedy, Inspirational, Social Message.
Language: English
Duration: 87 minutes
Credits of TWOSOME-
Producer: Divya Baghela Rathore
Director: Udayyan Raathore (Debutante Film)
Writer: Pankaj L Pandya
Cast: Preet Kunwar Choudhry and Rishabhraj Mehrotra
Cinematography: Sumon Dutta
Editor: Kartik Katkar
Background Music: Bharatt Saurabh