Another daughter of India has made the whole nation proud by winning a gold for the first time in Asian Games 2018. Swapna Barman is a 21-year-old athlete. She won a gold at the Asian Games 2018, Jakarta, Indonesia becoming the first Indian Heptathlete to do so. Despite many injuries in the past and one just before the big event at the Asian Games, the invincible girl helped India to raise the medal tally of golds at the Asian Games 2018. She was honoured with Arjuna Award by the Indian Government.
This 36 minutes documentary – The Golden Girl, made by K Gautham Krishnaa is about the girl Swapna Barman who was born with a feature normally looked down upon as a deformity. Overcoming the pain of running barefoot as having 6 toes in each leg (12 nails in her feet) inconvenienced the use of any normal running shoe. Belonging to a poor family of 4 siblings she entered sporting arena with the sole purpose of getting a suitable job, a job that wud be able to support and sustain her family.
"I often used to look at other girls who are so happy and with well-off families and seem to be in a bubble of their own and then feel why couldn't I have that. But I always remember that my parents gave me this determination and burning ambition and athletic talent instead and now I can help them," Swapns chirps up, adding, "There are saris to buy as well. I love saris and my favorite thing is to shut myself in my room, which has a big mirror, dress up in a sari and dance," she says with a sly smile.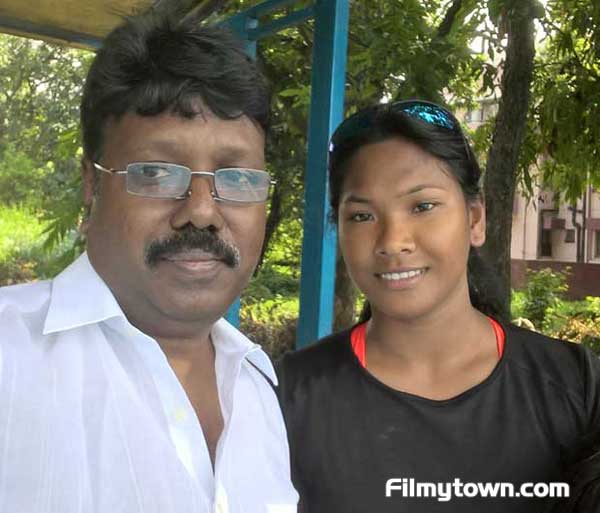 However this Golden girl's struggle has been notable. With supporting parents and helpful coaches she joined a sporting club in Ghoshpara in Jalpaiguri and then moved to Kolkata. With an assurance of a job even if she came 5th in the trials she put her everything, her body and soul and mind, into her training and became a heptathlete. Overcoming all the drawbacks that life threw at her she won the gold medal in Asian Games 2015 in Jakarta and emerged as the rising star from the dumps of ignominy, while crediting the achievement to her coach Subhash Sarkar who mentored her throught the struggle.
"The present documentary is not just her story but the story of all deprived talent that remains hidden in the remote corners of rural or tribal India; talent that does not find a taker or an appreciater; talent that remains crushed under the debris of poverty," mentioned K Gautham Krishnaa whose earlier feature films RDX and Aaj Ki Freedom were dark action and on making this film he as changed his mindset towards positive thinking.
The film conveys appreciation for the talent and gratitude to the people who believed in them, polished and nurtured them to let them shine on the Indian sporting horizon. "I hope this film would make parents to encourage their children to focus on Education and Sports," expressed K Gautham Krishnaa who took a years time to script the story of this short documentary that has been shot in locations in Jalpaiguri and Kolkata.
KARMA BOOMERANG – The Doting Father. A Short Film directed by K Gautham Krishnaa
Critically acclaimed story of how much would a man bend his ethics to see his daughter's happiness? Karma Boomerang – A Doting father is a short thriller film with a twist in this real-life related tale. Shot at actual locations in Versova Village in Andheri, Mumbai.