Commemorating the death anniversary of Rafi Sahab on the 31st of July, Bollywood lifeographer Rajni Acharya while speaking about the film Daastan-e-Rafi, enlightened the select group of media persons on the unparalleled feats and milestones of the great Indian Playback singer Mohammed Rafi who has been hailed as the Greatest Voice in Hindi Cinema (CNN-IBN poll).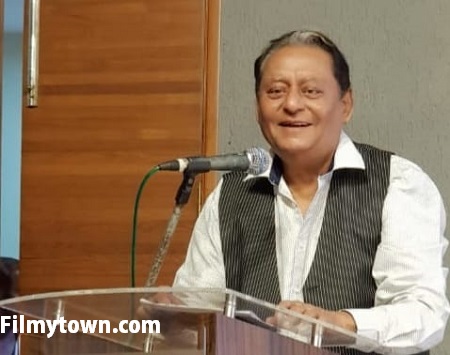 Rajni Acharya has produced and directed the first lifeography film on Mohammed Rafi, based on the life journey of legendary singer Padmashri Mohammad Rafi Sahib, that was first telecast on Zee Classic Television Channel on 24th December 2018 and the very same day it was projected on Tata Sky and Airtel DTH, with such adulation that had happened first time in history.
"It took me 4 years for the making of this film that was shot on actual locations in Punjab, Delhi, Gujrat, Mumbai and it was also shot Pakistan to capture various events and places related to Rafi Sahib's life," Rajni Acharya revealed about the toil that went into making of this classic film which is tthe result of his research spanning several years for collating factual details about this great personality.
The film 'Daastan-e-Rafi' produced by Rajni Acharya, Lifeographer has received an unimaginable response from audience, has been showered with more than 15 awards and appreciation certificates at more than 25 International film festivals including India.
"Interviewing of the great contemporary singer Shamshad Begum was very interesting for us as she was thrilled to face the camera after a gap of 20 years much to the viewer's delight," said Acharya whose film contains interviews of 60 + celebrities including Shammi Kapoor, Rishi Kapoor, Jitendra, Khayyam, Pyarelal of Laxmikant Pyarelal, Ravi, Ravindra Jain, Uttam Singh, Mubarak Begum, Lekh Tandon, Sudesh Bhosle and Anuradha Podwal and features 60 ever loving songs of Rafi Sahib.
It has been widely acclaimed and applauded by each and every viewer at more than 100 private screenings so far, which includes a special show in front of 5000 Jawans of Indian Army in Hyderabad, who not only watched it anxiously but enjoyed and danced on the tunes of Rafi Sahib's unforgettable numbers. This film creates a unique atmosphere where the audience becomes Chorus singer. After having viewed by more than 1.4 million Rafi fans, Daastan-e-Rafi is available on Zee Classic, Zee5, Jio, Shemaroo Filmi Gaane Youtube channel, ShemarooMe OTT and Tata Play.
"Daastan-E-Rafi" will keep telling the story of passion, dedication and hard work of legendary singer Padmshree Rafi Sahib for years to come. This informative film can also be fetched on various IPTV platforms in Canada, USA and UK. This film has been directed by Rajni Acharya and Vinay Patel, with Cinematography of Prakash Karlekar. A a TAKSHILA Multimedia production