Sidhant Kapoor has come up with his first solo music video Beparwah that has Ruskin Bond's lyrics and music by A R Rahman Foundation's Sunshine Orchestra to its credits. Sidhant is the grandson of playback singer Padma Shri Mahendra Kapoor who is well known for his golden voice in songs like 'Mere Desh ki Dharti Sona ugle' and 'Neele Gagan ke tale' among many others. Sidhant has composed and sung, produced the video and features in Beparwah.
For the first time Ruskin Bond has been featured in a music video where he describes the carefree life of young street urchins:
Imps of mischief, barefoot in the dust,
Grinning, mocking even as they beg you for a crust,
No angels these… just hungry eyes,
And eager hands to help you sympathise.
Such are the beautiful lyrics of the music video Beparwah which illustrates slum kids are carefree in mornings and evenings… They are carefree birds, carefree in their flight and do not seek land, because sky is theirs.
The video simply knocks one's mind to remind you to take life as it is and enjoy every previous moment that God has gifted you.
With the music video BEPARWAH having crossed 1 million views on YouTube in less than a week, Sidhant Kapoor speaks to Filmytown.com: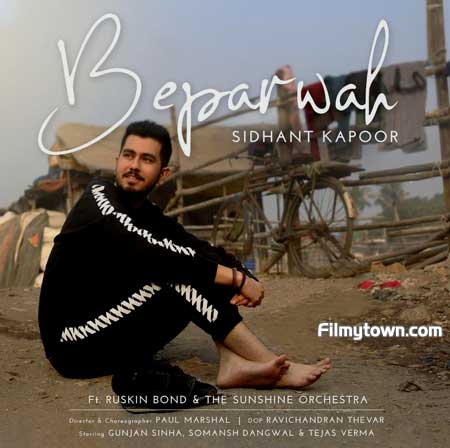 "We should learn the way to live our life learning from these slum kids who seek help, yet are not less intelligent," says Sidhanth. Of course this golden line resonates with the sermons of spiritual Gurus who often preach – 'What have you brought with you when you came to life… and there shall be nothing that a man takes with him after he leaves this world.'
"Sidhant has chosen such soul stirring lyrics of Ruskin Bond's poem 'Slum Children at Play' that beautifully portrays the innocence, happiness and carefree attitude of slum children who roam about on roads seeking for help and begging for money in their own style," noted Sidhant's father Ruhan Kapoor who was a lead actor in Faasle and Love 86.
During his college days, Sidhant was fortunate to learn Jazz Piano from Xavier Fernandes and Classical Piano from Joe Fernandes. He has completed Post Graduate studies in Music Composition from Trinity College (London) and composed for several Westerns Films, Television and OTT platforms. His opera 'Birth of Ganesha' premiered at Blackheath Halls in UK and has also composed a 18 piece ensemble Om Shanti that had world premiere at National Maritime Musuem in London.
Om Shanti's composition was inspired by Ansel Adams landscape pohotography and alongside the father of landscape photography, the music of Sidhant's Om Shanti instrumental music was exhibited at the National Maritime Musuem.
Sidhant Kapoor has composed for various International shows like the Coronation Street, the longest running British Soap Opera and for the Oscar Nominated Spanish director's film 'Un Espejo en el Cielo', Miss Marvel had 2 songs composed by him.
Ask him what is the single-most attribute that he has learnt from his grand father late Mahendra Kapoor, Sidhant said, "My grand father always said that learning never stops, and simplicity and humility." Before the next question, he further added, "And from my daddy Ruhan Kapoor I have learnt to have the quality of Patience and always maintain high spirit in my life."
Beparwah tells a heartfelt story of the slum kids that are performed by child dancers Tejas Verma, Gunjan Sinha and Somansh Dangwal and choreographed by Paul Marshal.
Simply interpreted, the gist of Sidhant Kapoor's music video conveys that though the rich have everything, they still want more and more and grumble and worry too much about life. Whereas the slum children who have little or nothing do not bother about the harsh world and live life to the fullest.
One of Sidhant Kapoor's upcoming projects is an album in collaboration with an International Composer. He also will be coming out with more music videos. Will they follow the same pattern of carrrying a message? To which he mentioned, "As long as human emotions are expressed through music, it is beautiful in any form. It does not always have to carry a message."

–  Paresh B. Mehta