Every once in a while we either hear or experience things which cannot have a rational explanation. Phoonk the movie is about that.
The truth of the matter is that we have very little knowledge and understanding of life and its various mysteries. Phoonk movie review…
The story of Phoonk demands an answer from you to the question that no matter how much of a non-believer you are, you can truly stand by your convictions especially when you or your loved ones are seemingly being threatened by demonic forces whose very existence your rational mind refuses to accept?
Rajeev (Sudeep) is a successful Construction Engineer with a loving wife, and two children aged 10 and 8. He is an atheist to the core. He scoffs at God and even more at people who believe in the dark forces till one day when an evil was let loose in his happy home, threatening to destroy his family and shake up the very foundations of his convictions and belief systems.
It is a very scary film, but the fear element is not just on the surface level. Here it seeps into you and plagues your entire belief system thereby making you highly vulnerable and will also put you into an emotional state wherein you would start fearing the most inane objects which you would normally take for granted in the daily course of life.
Phoonk is the story of a confirmed atheist whose belief systems are shaken up when his loved ones are subjected to the unspeakable horrors by forces whose very existence his rational mind refuses to accept. It is also the story of a fanatical devotee who is forced to turn her back on God in the face of traumatic experiences.
A few scenes in the first half appear funny as they are unnecessary moments. The second half is strong, very engaging and it creates a strong impact especially in the climax.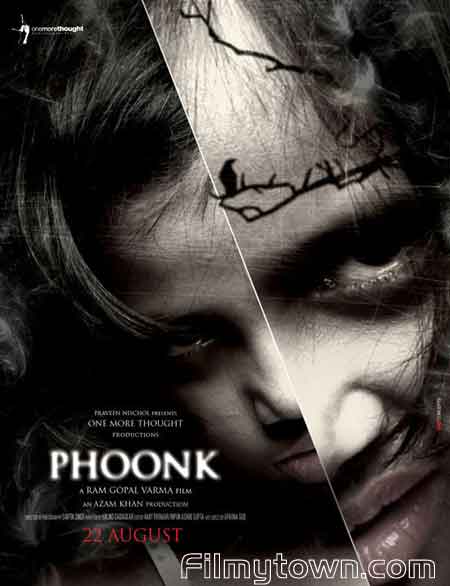 Sudeep, an expert actor in the South India film industry is impressive. Ashwini Kalsekar is decent enough, but Ahsaas is fantastic. Zakir Hussain and the victim Amruta Khanvilkar come out with powerful performances.
The movie Phoonk's official website mentions that Black magic or dark magic is type of magic that draws on malevolent powers. It would be invoked to kill, injure, or cause destruction, or for personal gain without regard to harmful consequences to others. As a term, "black magic" is normally used to describe a form of ritual that some group or person does not approve of. Not everything that is called black magic truly has malevolent intentions behind it, and some also consider it to have beneficial and benevolent uses, such as killing off diseases or pests.
Director's Note:
I never did believe in God nor in the so called dark forces. I have heard a first hand account of some other people's experiences which in the least can be said to be hair-raising and inexplicable. Being an atheist I would like to believe that there is a rational and scientific explanation to each and every one of these occurrences. But till I know and understand the same, I am forced to presume that they are supernatural happenings.
Finally I would like to say, not as a tall claim from a directorial position, but just as an observer of the sheer content of Phoonk – "Don't say I didn't warn you".
– Ramgopal Varma.
Official website: www.phoonk.in
Cast of Phoonk:
Rajiv – Sudeep
Arati – Amruta Khanvilkar
Raksha – Ahsaas Channa
Rohan – Shrey Bawa
Amma – Jyothi Subhash
Madhu – Ashwini Kalsekar
Anshuman – Kenny Desai
Dr. Seema Walke – Lileete Dubey
Dr. Pandey – K.K. Raini
Manja – Zakir Hussain
Mani – Javed Rizvi
Laxmi – Anu Ansari
Shyam – Shankar Sachdev
Devappa – Kishore Kadam
Mandar – Bharat Kaul
CREDITS of Phoonk:
Producer – Azam Khan
Director – Ram Gopal Varma
Presenter – Praveen Nischol
Director of Photography – Savita Singh
Writer – Milind Gadagkar
Editors – Amit Parmar / Nipun Ashok Gupta
Music – Amar Mohile
Art Director – Aparna Sud
Action Director – Allan Amin
Production Supervisor – Jeetendra Singh
Costume Designer – Naahid Shah
Sound Designer – Kunal Mehta, Parikshit Lalwani
Line Producer – Aditya Singh
Promo Editor – Nipun Ashok Gupta
Production Executive – Dawood Umar
Associata Director – Saahil Saple
Make Up – Bahadur Singh
1st Assistant Director – Shirsha Gupa Thakurta
2nd Assistant Director – Mohan Babu Bammidi
2nd 2nd Assistant Director – Nadeem Shah
Continuity Supervisor – Jiten Sharma
Editor Assistance – Vikram Parmar (Bunty), Pranav Mistry
Production Assistant – Ravikant Tiwari
Focus Puller – Rafique Ansari, Raees Ansari
Chief Camera Assistants – Vinit Malhotra, Sushil Gautam
Camera Assistant – Rajan Debashish
Sound Recordist – Jayant Pradhan
Action Assistants – Giru, Riyaz, Bala
Associate Art Director – Janani
Art Assistants – Tejas, Rupa, Jinal
Dressman – Sandeep Jaffar
Still Photographer – Vishal Saxena
Publicity Designer – Sachin Suresh Gurav (Omt Concepts)
Publicity Design Team – Venkatesh Kalluri, Milind Matkar, Rameshwar Mhatre
Phoonk, movie review