Ashutosh Gowariker's film is a magnum opus though the only flaw being its 3 and half hours long! Jodhaa Akbar is a sixteenth century epic romance story, the most ambitious hindi film with heavy doses of electrifying drama and wide canvas battle sequences. It's a dream all throughout whether it is large scale action sequences or the romance, and the beautiful landscapes of Rajasthan and even the torch and candle lit interiors of Agra fort.
Set in the sixteenth century, this epic romance begins as a marriage of alliance between two cultures and religions, for political gain, with King Bharmal of Amer giving his daughter's hand to Emperor Akbar. When Akbar accepts the marriage proposal, little does he know that in his efforts to strengthen his relations with the Rajputs, he would in turn be embarking on a new journey – the journey of true love.
From the battlefield where the young Jalaluddin was crowned, through the conquests that won him the title of Akbar the Great, to winning the love of the beautiful Jodhaa, this film traces the imnpressive graph of the mighty emperor and his romance with the defiant princess.
One of the inventive scenes is where Jodhaa stands up to Akbar and the Rajput princess in no way ready to yield without a fight. Factually! What an idea of romance. We have a conquering, defiant young king taking a bride for strategic reasons and then falling helplessly in love with her unbridled spirit…
Hritik and Aishwariya both undoubtly the most attractive protagonists in Bollywood, do well to keep the heat alive through their on-screen interaction. Jodhaa makes Akbar wait a maddeningly long time, this gradual evolution of their relationship works, their love builds and only alongside their increasing respect for one another. So charming…
Hrithik Roshan as Akbar the Great is outstanding, giving an extraordinary performance, his dialogues, commanding expressions, and working every facial muscle in delivering his lines, makes one almost believe he is a Mughal in Jodhaa Akbar.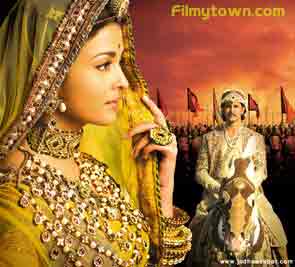 Aishwarya is impressive rather well when she is aggressive and combative. This pretty princess who is not given much dialogues, looks stunning in her sentimental scenes as well as in tear-filled speeches. Ash's mega asset – her eyes are used perfectly, taking them from subdued pain to injured pride, all the way to roaring warrior-girl killer eyes. She shines as the princess who makes the greatest sacrifice for her people, consenting to a marriage of alliance with the Mughals as much as she shines in grand jewellery and costume finery.
Every other actor puts in a splendid performance in Jodhaa Akbar. To mention a few of all supporting players is Ila Arun as Maham Anga, Akbar's mother-like figure. She is a guide and instrumental in bringing up the young Jalal who now steers him in his governance. The newcomer Sonu Sood as Jodhaa's brother is praiseworthy, Nikitin Dheer as the scary Sharifuddin who is Akbar's treacherous brother-in-law has put in a performance of a worthy adversary to Akbar.
Music by A.R. Rahman which has magnificent background score throughout the movie, and there are some memorable numbers like the Khwaja Mere Khwaja which is divinely shot. The so-called couple's wedding banns have just taken place, and a group of singers sit cross-legged to offer the lord tribute. This is a particularly outstanding song sequence that has to be admired. We even have the grandly picturised Azeem-O-Shaan Shahenshah and then Hritik's elephant taming sequence, a sword duel with Jodhaa, battles, and a climactic combat with the main villain. The choreographers' (Rekha and Chinni Prakash) hard work is just a visual delight!
CAST of Jodhaa Akbar:
Jalaluddin Mohammad Akbar – Hrithik Roshan
Jodhaa Bai – Aishwarya Rai (Aishwarya Rai Bachchan)
Maham Anga – Ila Arun
Narrator – Amitabh Bachchan
Chetana – Chetana Das
Raja Bharmal – Kulbhushan Kharbanda
Padmavati – Suhasini Mulay
Bhagwan Das – Digvijay Purohit
Hamida Banu – Mrs. Punam S. Sinha
Sujamal – Sonu Sood
Young Jodhaa – Rucha Vaidya
Chughtai Khan – Rajesh Vivek
Bairam Khan – Yuri
CREDITS of Jodhaa Akbar:
Writers – Haidar Ali, Ashutosh Gowariker
Original Music – A.R. Rahman
Cinematography – Kiran Deohans
Film Editing – Ballu Saluja
Production Design – Nitin Chandrakant Desai
Costume Design – Neeta Lulla
Production Management
Production Managers – Abul Syed 'Hassan' Ehsan, S.A. Ehsan, Ranjit Indori
Unit production manager – Datta Jamkhande
Publicity Designer – Nabeel Abbas
Choreographer – Raju Khan
Set Production Assistant – Jay Oza
Production Co-ordinator – Pranati Oza
Choreographers – Chinni Prakash, Rekha Prakash
Design Visualizer – Mihir Shah
Set Production Asst – Srikanth
First Assistand Director – Gurmeet Singh
Second Assistand Directors – Ekta Pathak, Prateek Sapra
Third Assistant Director – Puneet Khanna
Assistand Art Directors – Hemant Bhatkar, Sanjay Karole, Mithali Mahajan
Sound Department
Foley Artists – Sayed Aslam, Yadav Manoj
Sound Editors – Tarun Bhandari, Sreejesh
Sound re-recording Mixers – Debajit Changmai, Hitendra Ghosh
Live Foley Mixer – Abhijit Deo
Supervising Sound Editor & Designer – Stephen Gomes
Dialogue Editor – Lochan Kanvinde
Special Effects – Pankaj Khandpur
Stunts co-ordinator – Ravi Dewan
Camera Grip – Mukund Gupta
Assistant cameraman – Lalit Sahoo
Supervising Editor – Ballu Saluja
Music Dept Composer – Kaz Boyle
Jodhaa Akbar, movie review