Laaga Chunari Mein Daag is a fascinating blend of melodrama, feminist fairy tale and good music. Shivshankar Sahay (Anupam Kher), father of the two girls, is a retired Economics professor, who was denied pension, when he refused to accept some unfair terms.
Its the story of fortunes of Badki (Rani Mukherjee) and Chutki (Konkona Sen Sharma), sisters from a 'khandani' Benares family which is saddled with money problems and predatory relatives. So the elder sister leaves to find work in Mumbai, eventhough having no diploma nor any work skills. Do all girls and boys all over rest of India think Mumbai as a sone ki nagri? If thats so, then each individual in Mumbai would have been declared a millionaire.
Anyway, Badki experiences the harsh realities of life in Mumbai. Her aim is to make fast and big money, no matter even if she ultimately and knowingly falls in her own eyes and becomes Natasha: a high-priced prostitute.
Badki's lil sister Chutki's finishes her M.B.A., joins her sister in Mumbai, where she gets a job in advertising field. Her boss falls for her (later on wants to get married) and promotes her to market soaps to the modern Indian woman. Chutki won't allow her sister to be shunned. Instead of keeping the stain a dark secret, Chutki insists on honesty and that the family reintegrate Badki.
Highlights of the movie are the splendid performances by the two leading ladies – Rani Mukherjee and Konkona Sen Sharma. They appear just natural, no matter there is a lot of weeping around with them since the story demanded it. A bit more dramatic while the leading ladies deliver their dialogues.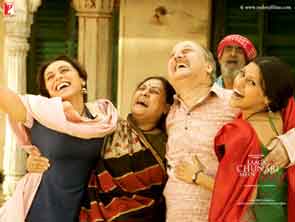 While the Camerawork is above average especially the depiction of the Benaras ghats and the well shot close up scenes depicting emotions of the characters, music is refreshing and good songs. Okay the director has succeeded in celebrating the spirit of a woman, he wants us to realise that ultimate goals and bliss of a woman is meeting an ideal man in her life !??? And that too often, the movie shows that men are a breed who crave for sex, even at the cost of paying huge sums to homely girls?!?! Isnt that a little too much?
Its nice to see today's females being depicted as strong willed and achieve their goals – a tribute to the modern Indian woman. Recommended to those who like tear jerkers.
Cast of Laaga Chunari Mein Daag:
Rani Mukherjee – Badki
Konkona Sen Sharma – Chutki
Jaya Bachchan – Sabitri
Anupam Kher – Shivshankar Sahay
Kunal Kapoor – Vivaan
Abhishek Bachchan – Rohan
Kiron Kher
Hema Malini in Special Appearance
Credits of Laaga Chunari Mein Daag:
Producers – Aditya Chopra, Yash Chopra
Director – Pradeep Sarkar
Writer – Pradeep Sarkar
Original Music by – Shantanu Moitra
Costume Design by – Subarna Ray Chaudhuri
Sound Department – Andrew Belletty
Fayyaz Badruddin – publicity designer
Laaga Chunari Mein Daag, movie review