Bhool Bhulaiyaa is a hindi remake of a Malayalam super hit film – Manichitrathazhu, which has a better ending than the other Priyadarshan movies like Dhol, etc… Its a slapstick murder mystery which thankfully has buffoonery restricted only to the first half of the movie and that's tolerable. The second half really scares the audience, which apart from frightening, is also amusing and exciting.
The movie begins with its usual slapstick comedy rendered by Paresh Rawal, Rajpal Yadav, Asrani and the gang – without Akshay Kumar. It is acceptable since the story moves on alongwith the regular giggling moments. Bhool Bhulaiya has songs, comedy, suspense and spirits, and some portions are not for the faint hearted. The hit songs are Hare Krishna Hare Rama – which could have been included somewhere around Akshay Kumar's entry which would be more excitable. The other number on Shiny Ahuja and Vidya Balan is a very popular number and beautifully picturised.
Siddharth (Shiney Ahuja), a descendant from a royal family of India returns to his hometown with his newly-wed wife Avni (Vidya Balan) who insists that they stay in their ancestral palace rubbishing aside the abundant caution from their other family members. Not realizing the mystery, discovery, surprise, shock and revelation lay in front of them.
His his large extended family welcomes them. His uncle Badrinarayan Chaturvedi (Manoj Joshi) unsuccessfully voicing his displeasure decides to come in and stay with the newly wedded couple purely for the couple's safety reasons.
Suddenly all the unforeseen happenings, mysterious elements, horrific indications and life-threatening incidents happen in the palatial mansion. It reaches to such an extent that someone in the family could face death! This is what Bhool Bhulaiya is about.
This is when Siddharth instinctively calls up his Psychiatric Doctor-friend Aditya (Akshay Kumar) who reaches there just some moments before the interval. Our doctor-friend too witnesses and experiences many unexplained happenings in the middle of the nights. He immediately starts his investigations which even makes him take a trip to some city in Central India.
Mercifully, the buffonery of Paresh Rawal, Rajpal Yadav is somewhat restricted and appear logically realistic at times. The highlight of the film is the suspense which comes as a jolt. The flashback that follows is equally interesting. The mystery is solved in climax which is a bit unconvincing, but alls well that ends well… which should be lapped by the Indian audience which usually give thumbs up to films with a happy ending.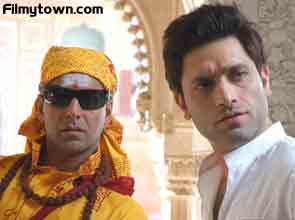 Performances by Akshay Kumar, Vidya Balan and Shiney Ahuja in Bhool Bhulaiya are splendid. Unfortunately Amisha Patel has been given less scope to showcase her talents. Paresh Rawal, Rajpal Yadav and Rasika Joshi are first-rate. Manoj Joshi is very much with the character. He performs well. Vikram Gokhale, Asrani, Vineeth and Tareena Patel are good in their brief roles.
Bhool Bhulaiyaa is an extremely well-shot, glossy and a visually attractive film. For a change the director appreciates maturity of the audience thus incorporating horror with humor in a steady flow of events taking place in the palatial house.
Cast of Bhool Bhulaiyaa:
Akshay Kumar – Dr. Aditya Shrivastav
Vidya Balan – Avni Siddharth Chaturvedi
Shiney Ahuja – Siddharth Chaturvedi
Amisha Patel – Radha
Paresh Rawal – Batukshankar Upadhyay
Rajpal Yadav – Chhote Pandit
G. Asrani – Murari
Rasika Joshi – Janaki Upadhyay
Vineeth – Professor Sharad Pradhan
Manoj Joshi – Badrinarayan Chaturvedi
Vikram Gokhale – Shri Yagyaprakashji Bharti
Tarina Patel – Nandini Upadhyay
CREDITS of Bhool Bhulaiyaa:
Producer – Bhushan Kumar
Director – Priyadarshan
Screenplay writer – Neeraj Vora
Dialogue writers – Manisha Korde, Neeraj Vora
Lyrics – Sameer, Sayeed Qadri
Other Credits of Bhool Bhulaiyaa –
Original Music by – Pritam Chakraborty
Cinematographer – Tirru
Film Editors – N. Gopalakrishnan, Arun Kumar
Art Director – Sabu Cyril
Visual Effects – Avik Banerjee
Assistant Colourist – Mahesh Deshpande
Choreographer – Pony Verma
Bhool Bhulaiya movie review