Says Sanoj Mishra director of Kashi to Kashmir
Sanoj Mishra has had a varied experience as an assistant director to the likes of Ketan Mehta, Manoj Agarwal and Anil Sharma. Having directed several Bollywood movies on his own later with his latest realistic film KASHI TO KASHMIR ready for release.
Sanoj speaks to FilmyTown:
What are your earlier films as a director?
My first directorial venture was 'Mahidpur 0 Kms,' a crime based drama, suspense film that was based on a real story that happened in Ujjain in MP. Then my next was 'Gandhigiri' as a writer-director which starred Om Puri, Sanjay Mishra and Mukesh Tiwari. Followed it up by Taraana the Black story and then it was Mungerilal B. Tech.
Could you reveal a bit about your upcoming film Kashi to Kashmir?
This too is a realistic story based in the 90s when the Kashmiri Pundits were ridden off from Kashmir. This period witnessed a hell of violence and deaths which the government of that time had supressed it from coming out in the mainstream news.
The current government has worked out a package of rehabilitation of these Pundits which comes with the rider to show all the necessary documentary evidence of their stay in Kashmir during that period. However there were several Pundits who had to run on the spur of the moment – leaving behind all their immovable assets and documents. These people have nothing to show to the government of the present time. What should be done in this case?
That is an interesting subject. A bit more of the characters please…
Kashi to Kashmir is the story of an unsettled Kashmiri youth or you can put it as this disturbed lad Shivananda's journey. Terrorists had killed all of his family when this lad was just 8 years old. Being mentally disturbed he came in contact with a Guruji of a Kashimath who preached spirituality.
The teacher teaches him to live with his 'Dard' (pain) and to follow the principles of Ahimsa (non violence) and Shama (forgiveness). Basically the principles of a Hindu Dharma. Because a true Hindi is the one who forgives  'Shama karne wala'.
It is said that you shot the film in real locations in the troubled areas of Kashmir. Is that true?
Since it is a real story, I had to show realism in the film and when I reached the city where the shooting was to take place, I got the shock of my life as the place looked like Talibaan. Imagine, being in India itself, I witnessed such a horrific atmosphere in Kashmir.
I still insisted on shooting there and it was the support of my 50+ people in the unit which was guided by a local producer Naseembhai that made the shooting complete. 'Mujhe aisa laga ke mein maut ke kuwe se bahaar aa gaya' (I felt relieved as if I escaped the gallows).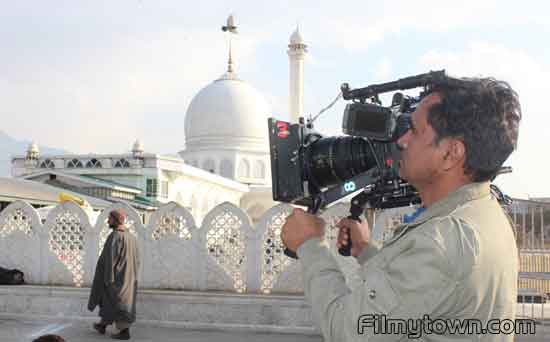 How was the support from your cast and crew?
I had the motive to show this story because any religion doesn't preach to kill people. All religions say – help someone to live peacefully and happily.
Govind Namdeo, Ravi Kishen and Kulbhushan Kharbandaji encouraged me to go ahead with the shooting despite the problems. Omkar Das and Uzma Ahmed play pivotal roles in the film. I am so thankful to all of them having worked with me without any complaints.
Kashi to Kashmir releases in October and I hope the audience will appreciate my efforts.