Dinkar Rao is playing an Indian drug dealer from Mombasa, Kenya in the chase thriller DOPE GIRL that is due for release this year. It is an engrossing action film that has completely been shot at actual locations in Mumbai. Dope Girl is produced by Lavanya Rao of Lavanya Entertainment and its director and Cinematographer is Manish Sharma, who earlier directed the films Jawani Diwani starring Emraan Hashmi and Celina Jaitley and the Aftab Shivdasani, Gracy Singh film Muskaan. (Dinkar Rao as a drug dealer in Dope Girl in the above pic)
One of Dinkar's earlier films 'Sanyogita – The Bride in Red' had Dinkar Rao playing the lead actor starring opposite Divya Datta, Milind Gunaji and other NSDians. Directed by Sadashivam Rao, Sanyogita had bagged critical acclaim at Lyons Film festival, Bollywood & Beyond Stuttgart films in Leipzig Germany.
Dinkar reveals that he was highly influenced by the legendary actor Bruce Lee, "Bruce Lee was God to me in my childhood. I even had the Bruce Lee book 'Tao of Jeet Kune Do' and practised with the Nan Chako. Since childhood my brothers and I trained each other in Karate while living in Delhi. We would also keep the side kick stance at 90 degrees plus."
Dinkar further adds "Most of my upcoming films are action oriented and I have received offers to act in action films in Telegu, Tamil, Kannada and Malayalam. One of the upcoming films is expected to get released by November 2023. Now I am focused on acting only in the action genre. I shall continue to act in Bollywood movies and am open to Marathi or Gujarati films too."
A Diploma in Communications holder, Dinkar Rao was quite active behind the camera donning the role of director some time back. He says "I have left direction behind and have moved on. So I wouldn't mention about them. I enjoyed that period."
To his credit are the films like Papoo Photowalah, Zoya the black Widow, PopCon, Dancing Daughters, Railway Raju, Ek Dopahar and Asthi-Ashes of my mother.
Here is Dinkar Rao in an exclusive interview to Filmytown.com :
Let us begin right from the start of your acting career.
I did join an acting school in Juhu where I got to grasp Method Acting etc – Stanslevesky form of acting. The best part here was learning nuances of Urdu – diction – the "nukhta" it stamped my brain.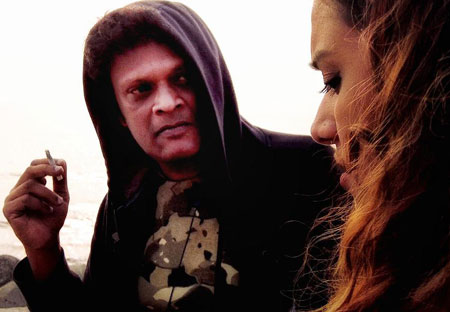 You wanted to be an actor then how come you ended up being behind the camera?
Mumbai's glamour has always fascinated me. When I came to Mumbai I saw all the struggles of fresh actors so then I thought I'll get bored just taking rounds of offices. I therefore joined as an assistant director – watched stars perform – on shoots – then realised its easy as nothing was live like theatre – also learnt – an actor performs – a star has to have style (also).
What is your perspective on acting?
I feel that films and web series are character driven which offer much scope to an actor to display his talent. All forms are appreciated – feature films, shorts and web series. What clicks or matters is how well you have suited it. I believe to Underplay as much.
What can you reveal about your upcoming film DOPE GIRL?
DOPE GIRL the film that is presently on floors and it's principal photography is complete. I play the lead role of a dope dealer who is following a girl across Mumbai, and the film is almost complete. This is the most recent project of mine as lead actor, and I am also the writer of the film.
Apart from Sanyogita and the upcoming Dope Girl, which are your other films as an actor?
I have also acted in the feature film Papoo Photowalah and very soon to go on floors is the upcoming web series DEADLY DAY that is based on border terrorism spanning all borders (North East, Kashmir, Jaisalmer, Punjab & South India). Here too I am playing that main character, that of Baba Salim.
– PARESH B. MEHTA