Bengali youth icon Riju's Bollywood debut
Riju was just 13 when he acted as a child artist in the Bengali film 'Samadhi' which had Govinda and Gracy Singh in lead roles while this lad's work was highly appreciated by the critics.
It was then followed by Shrestha Bangali which is his first film as a lead character
Riju made his Bengali film debut in a lead role in the family drama – Shreshtha Bangali, which had a successful run of over 100 days in cinema halls across West Bengal. A commercial success, this film was appreciated by the masses for its soulful story, songs and the performances of lead characters which included Riju, his lead actress Ulka Gupta, Rajpal Yadav who plays his father in the film alongwith Shakti Kapoor and a Special appearance by Sunny Leone.
Riju's Bollywood debut – REHBAR
The film being made in Hindi and Bengali, has music by Meet Bros and that is the soul of the film. Produced by Viewpoint Suppliers Pvt. Ltd, Virendrra Lalit is directing for the Hindi audience, while Swapan Saha helms the Bengali version. Rehbar's Executive Producer is Kasim Ansari.
Rehbar's shooting is majorly complete having its long schedule at Ramojee Rao Studios in Hyderabad, with its final stint will be shot in Switzerland and the US.
This romantic drama has Riju and Sree in the lead, with supporting cast of Rahul Roy, Padmini Kolhapure, Ravi Kishan, Ritu Shivpuri, Spandan Chaturvedi. Film is being readied for Eid release.
We catch up with this young lad Riju who is still in college and yet to finish his graduation, but has already become a sensation. He is the heart-throb of millions of girls and boys across the world. This rising sensation will now be seen in a Hindi-Bengali film which releases this Eid.
Excerpts from the interview published in mid-day by the same author.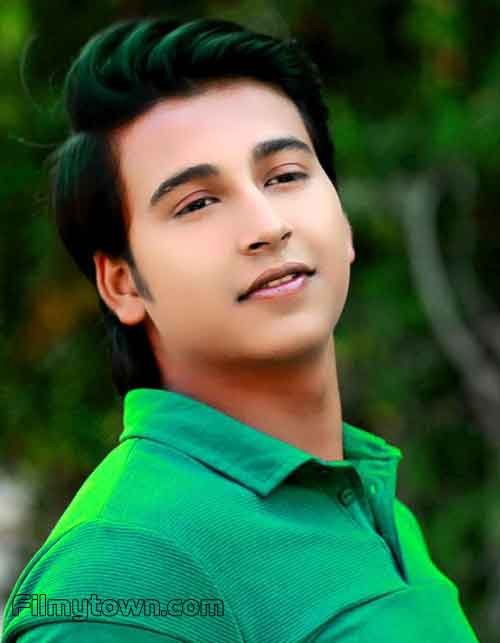 Yours is a non-filmy family background. How did you enter into films?
I had done a lot of theatre during my early school days. My father handles an event management company; mother is a home maker and my elder brother is studying Medicine. With my first film doing well, I did get a lot of offers, so while I will do films, I will simultaneously finish my graduation. I feel that art and culture is so much in our Bengali blood that is why you will see many greats in film industry are from West Bengal.
How did you get Rehbar?
This is Rahul Roy's film and the Hindi version is being directed by Virendra Lalit. Just after the success of Shreshtha Bangali, Rahul Sir (Rahul Roy) offered me the role opposite Sree. The film's Executive Producer Kasim Ansari and Rahul Roy carefully planned the schedule in such a way that immediately after the shoot in Hyderabad I will be given enough time to prepare for my exams. (He is a student of Scottish Church School in Kolkata). Post my exams they have planned the schedule in Switzerland.
What is Rehbar about? What is your role in the film?
It is a teenaged love story. I play the role of Raj, the son of a head-master (Rahul Roy) who falls in love with the daughter (Sreejita Ghosh) of a politician. It is a romantic drama.
What is the most important tip or an advice you will keep in mind while testing your luck in the hindi film industry?
The most beautiful words of wisdom I will remember throughout my career in Bollywood are from Prosenjit Chatterjee, a renowned and award winning actor in Bengali films. Prosenjit Sir told me, "Now that you are setting your foothold in Bollywood, be careful in choosing the roles you select and always remember to be natural as an actor. Never try to copy anybody. I am proud of you that you are entering Bollywood at such a young age. Never take any brash decision and maintain your dignity through ups and downs in your career."
Who do you idolize in Bollywood?
I like Akshay Kumar so much that I pray one day I want to follow his footsteps. He is such a fine actor and I have also heard that he performs most of his stunts. Even in romantic roles he carries himself so well. He is really a hard-working actor and well-disciplined human being. I also like Ranveer Singh.
Among the actresses in the hindi film industry, I am a fan of Deepika Padukone and Alia Bhatt.
The hindi film industry has always welcomed fresh talent with an open heart, be it from any part of India. Welcome to Bollywood – Riju.
– PARESH B. MEHTA
(This interview by the same author was first published in mid-day print edition)