Om Shanti Om is a Manmohan Desai type of a masala film of the 1970s. It has the premise of reincarnation as was in Subhash Ghai's "Karz". Okay, it is a joyous film which has its silly giggling and overacting in parts, especially the typical mother (Kirron Kher) of a struggler son, who lives, thinks that one day her son would definitely become a super star of Bollywood, since her husband could not fulfill his dream. A typical filmy mother. Its here and a few other scenes where the film appears unrealistic.
Debutante Deepika Padukone is the hasina in this case. Shanti has a pretty face, charming smile and an old-world charm… She is the reigning superstar of 70s.
Shah Rukh Khan is the deewana, he is in love with her. Om, who is a struggling actor – a junior artist and her biggest fan. He dies in a mishap while watching Shanti in danger on an opulent film set which is on fire.
This film has some wonderful moments of satire in the plot especially the scene, in which junior artistes (Shah Rukh and Farah Khan) cheer Rishi Kapoor as he jives on stage to the "Om Shanti Om" track in Subhash Ghai's "Karz". An excellent piece of homage to a way of cinema that's gone-bye-bye.
Om is reborn in a filmy family and now he is a super star. He hears voices, gets flashes of some particular incidents in his past life. At the incident while receiving the Filmfare Award he hears voices which make him realize that his life was cut short. He gets visions of his friendship, the fire and witnesses the treachery towards Shanti in his past life for whom he had hidden love. She eventually vanishes one day and the media has almost forgotten about the matter.
Now this superstar Om wants to make a film on the incidences of his past life, begins hunt for a heroine who resembles Shanti, and Deepika Padukone re-emerges as Sandy the girl from Goa.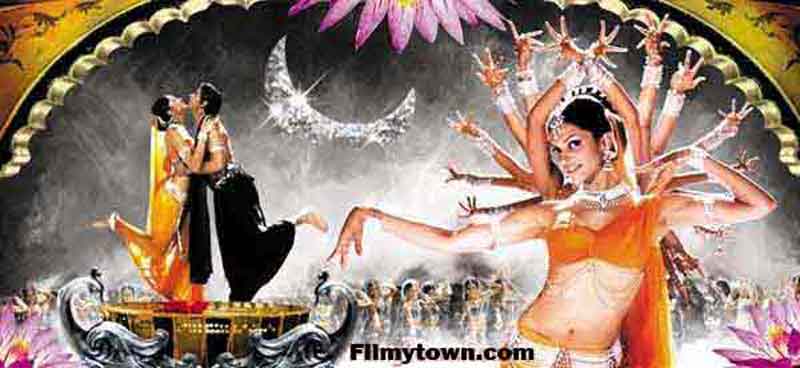 Its filled with funny scenes like a song sequence in the first-half which has Shah Rukh and his object of adoration Deepika riding a stationary car in a studio with back-projection simulating movement. In the second-half the same device is used without any spoof when the second Shah Rukh, a spoilt bratty specimen of vivacious vanity, rides in the wilderness on the arch-villain Arjun Rampal's limousine.
Typical of the 70s where these strugglers Shah Rukh Khan and Shreyas Talpage hang out casually around the film studios, it is Shah Rukh Khan who shoulders this hit film with his comic gestures, his take off on a South Indian matinee idol, is magnificent throughout. Deepika Padukone has the looks, personality and talent and above all the freshness to reach the top in our bolly town.
Shreyas Talpade, as the best friend of Om is top-notch. Surprisingly, Kirron Kher, playing Om's mother is just a stock character. Javed Sheikh plays the 1970s romantic star Rajesh Kapoor, and Arjun Rampal is the most impressive. The much hyped 31-celebrity song and dance has among others, Tabu who looks the most incredible, Shilpa Shetty is cool and ultra slim, Sushmita Sen is sensuous and Jeetendra and Dharmendra too in it.
Cast of Om Shanti Om:
Shahrukh Khan – Om Prakash Makhija / Om Kapoor (as Shah Rukh Khan)
Arjun Rampal – Mukesh Mehra aka Mike
Kiron Kher – Bela Makhija (as Kirron Kher)
Shreyas Talpade – Pappu Master
Deepika Padukone – Shanti Priya / Sandhya aka Sandi
Bindu – Kamini
Javed Sheikh – Rajesh Kapoor (as Jawed Sheikh)
Satish Shah – Partho Roy
Nitish Pandey – Anwar
Yuvika Chaudhry – Dolly
Shawar Ali – Shawar
Asawari Joshi – Mrs. Kapoor (as Asavari Joshi)
Nassar Abdulla
Rest of cast of Om Shanti Om in special appearance:
Amrita Arora, Malaika Arora, Shabana Azmi, Abhishek Bachchan, Amitabh Bachchan, Vidya Balan, Bipasha Basu, Mithun Chakraborty, Juhi Chawla, Priyanka Chopra, Vishal Dadlani, Bobby Deol, Ritesh Deshmukh, Dharmendra, Lara Dutta, Sanjay Dutt, Subhash Ghai, Govinda, Jeetendra, Karan Johar, Kajol, Karisma Kapoor, Rishi Kapoor, Tusshar Kapoor, Arbaaz Khan, Farah Khan, Saif Ali Khan, Salman Khan, Zayed Khan, Akshay Kumar, Bappi Lahiri, Urmila Matondkar, Diya Mirza, Dino Morea, Rani Mukherjee, Amisha Patel, Rekha, Hrithik Roshan, Shilpa Shetty, Sunil Shetty, Aftab Shivdasani, Tabu, Preity Zinta
Credits of Om Shanti Om:
Produced by –
Sanjiv Chawla – Executive Producer
Gauri Khan – Producer
Shahrukh Khan – Producer
Directed by – Farah Khan, Mushtaq Sheikh
Screenplay – Farah Khan
Story – Farah Khan
Dialogue – Mayur Puri
Original Music – Vishal Dadlani, Shekhar Ravjiani, Pyarelal Ramprasad Sharma
Cinematography – Manikandan (as V. Manikandan)
Film Editing – Shirish Kunder
Art Direction – Sabu Cyril
Costume Design – Karan Johar, Manish Malhotra, Sanjeev Mulchandani
Sameer Khan – Production Manager
Rajesh Keshav Vanmali – Production Manager
Farah Khan – Choreographer
Vaibhav Misra – Associate Director
Nilufer Qureshi – Public Relations
Joyeeta Chatterjee – First Assistant Director
Pooja Desai – Assistant Director
Kanika Dhillon – Assistant Director
Parag Kalita – Assistant Director
Arunabh Kumar – Assistant Director
Zoa Morani – Assistant Director
Angelo Sahin – Second Unit Director
Baylon Fonseca – Adr Recordist
Nakul Kamte – Sound Designer
Kuldip Sood – Sound Re-Recordist
Haresh Hingorani – Visual Effects Supervisor
Arjun Mitra – Visual Effects Supervisor
Keitan Yadav – Visual Effects Supervisor
Shyam Kaushal – Action Director
Angelo Sahin – Action Director
Amar Shetty – Action Director
Om Shanti Om, movie review